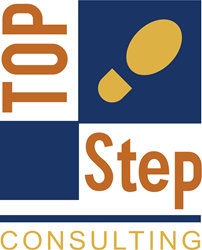 This year we are also very excited to share a new offering with our customers. We will be launching this new offering during SuiteWorld and will showcase this innovative solution at our booth on the expo floor." says Jodi Cicci
Chantilly, VA (PRWEB) March 21, 2017
TOP Step Consulting Inc., an award-winning professional services consulting firm specializing in professional service automation (PSA) has announced that it will be a Gold sponsor at the SuiteWorld17 technology conference. The event is held by Oracle + NetSuite, a leading provider of cloud business software, and will take place April 24-27, in Las Vegas.
TOP Step Consulting improves business efficiency and productivity for professional services organizations through implementation and integration of professional services automation (PSA) tools. They have a dedicated practice specializing in NetSuite OpenAir that brings together over ten years of experience and knowledge in implementing, integrating and providing ongoing virtual administration services for NetSuite OpenAir customers. During SuiteWorld17, TOP Step will showcase the flexibility and power of NetSuite OpenAir with simple and easy to install OpenAir scripts that reduce administrative time, will keep data clean, and prevent mistakes. In addition, Jodi Cicci, President and CEO of TOP Step Consulting, will present "Expand Functionality From Within" which will highlight some small and big NetSuite OpenAir process accomplishments empowered by OpenAir scripts.
"We have been supporting SuiteWorld from the beginning and always look forward to the opportunity to meet with NetSuite OpenAir customers in person. SuiteWorld provides a valuable experience for NetSuite OpenAir users, giving them a venue to discuss their challenges, experiences, and discover new ways to improve the use of their NetSuite OpenAir system," says Jodi Cicci. "This year we are also very excited to share a new offering with our customers. We will be launching this new offering during SuiteWorld and will showcase this innovative solution at our booth on the expo floor."
SuiteWorld is Oracle + NetSuite's annual celebration of customers and partners who run their businesses through the power of the NetSuite platform. 2017 marks the 7th year of bringing 6,000 of the best-of-the-best in cloud computing to one place – with the singular objective of moving business forward. Attendees will have the opportunity to network and share experiences, select an agenda for learning from over 200+ breakout sessions and review more than 100 value-added solutions in the SuiteWorld Expo.
ABOUT TOP STEP CONSULTING
TOP Step Consulting is a leading expert in professional services automation (PSA) that assists services based organizations with improving business efficiency and productivity. They provide advisory, implementation, integration, and virtual administration services to over 280 world-class professional services organizations worldwide. Their goal is to streamline operations and help their customers achieve profitability goals that result in focused business growth. To learn more, please visit http://www.topstepconsulting.com.