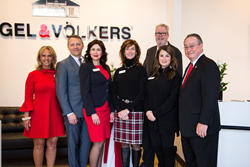 "Our new Engel & Völkers shop exhibits the unique, European design shared by our network of high-end real estate shops around the world. Our luxury brand represents premium service and passion for what we do." -Yuriy Vaynshteyn, owner
Charlotte, NC (PRWEB) March 20, 2017
Engel & Völkers Uptown Charlotte, which announced its entry into the Charlotte market on March 7, 2015, celebrated the opening of their second newly designed, premium real estate property shop, with a grand opening event of their new location 333 W. Trade Street, Unit 1C Charlotte, NC 28202.
"Our new Engel & Völkers shop exhibits the unique, European design shared by our network of high-end real estate shops around the world. Our luxury brand represents premium service and passion for what we do," said Yuriy Vaynshteyn, owner of Engel & Völkers Charlotte. "We are officially on the world map and will continue to best serve the needs of our community. Our local market expertise and enhanced international presence will allow Engel & Völkers to be a luxury market leader."
The new shop welcomed more than 75 guests who attended the grand opening for the official ribbon cutting ceremony including representatives of Engel & Völkers North America headquarters staff, Tom Kunz, EVP and Denise Williams VP. Also in attendance were new and seasoned advisors within the shop as well as media and real estate professionals. Yuriy Vaynshteyn made an exciting announcement that Engel & Völkers Charlotte will soon be opening a third shop in Lake Norman.
Engel & Völkers Uptown Charlotte represents a partnership between the international real estate firm and local market leaders, Engel & Völkers South Charlotte. Merging years of real estate experience with world-class marketing systems and technology, and a truly connected international network, they provide high touch client services in the Charlotte market.
Engel & Völkers Uptown Charlotte will provide leading services and premier properties for buyers and sellers in Uptown Charlotte and the surrounding areas including Myers Park, Dilworth, Eastover, and Elizabeth among others. With the second largest banking district and the sixth busiest airport in the nation, a thriving manufacturing and energy industry, and a wide range of professional sports, Uptown Charlotte is increasingly luring in both local and foreign buyers attracted to its vibrant lifestyle.
Engel & Völkers continues to strengthen its presence in the real estate markets across North America, with planned openings in several new markets in the coming months.
About Engel & Völkers
Since its beginning in 1977 as a specialty boutique providing exclusive, high-end real estate services in Hamburg, Germany, Engel & Völkers has become one of the world's leading companies specializing in the sale and lease of premium residential and commercial property, yachts and private aviation. Engel & Völkers currently operates a global network of over 8,500 real estate advisors in more than 750 brokerages spanning 32 countries across five continents, offering both private and institutional clients a professionally tailored range of luxury services. It established Engel & Völkers North America in 2007 and assembled a team of the industry's top leaders, performers and real estate innovators to expand operations in the U.S., Canada and Mexico. Committed to exceptional service, Engel & Völkers supports its advisors with an array of premium quality business services; marketing programs and tools; multiple platforms for mobile, social and web; as well as access to its global network of real estate professionals, property listings and market data. Engel & Völkers is an active supporter of the Fair Housing Act and the Equal Opportunity Act. Each brokerage is independently owned and operated.