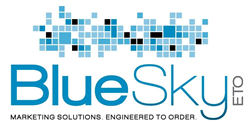 BlueSky ETO's Brand Marketing Centers make it easy for resource challenged marketers to follow brand guidelines while executing powerful omni-channel campaigns.
Pittsburgh, Pennsylvania (PRWEB) March 23, 2017
BlueSky ETO announces the release of The Flight Simulator: A BlueSky ETO Live Demo. Marketers and print buyers can now climb into the cockpit to experience the easy to use power of BlueSky ETO Brand Marketing Solutions for themselves.
"Our Brand Marketing Centers and Automated Campaigns are engineered to order around each client's business structure and marketing goals," says Vice President Luke Teboul. "This allows us to provide comprehensive marketing solutions to very specific needs, but until now we haven't been able to show marketers researching brand management software what the BlueSky ETO experience is like."
Through The Flight Simulator, marketers can test drive some of BlueSky ETO's most popular brand management capabilities including:

Business Collateral: use brand compliant templates to create local marketing content.
Direct Marketing: variable data templates and automated campaign development
Email Marketing: trigger based emails or on-demand digital marketing
Resizable Print Ads: brand-managed or fully customizable by local outlets
Detailed Reporting: insight into which assets are being used and how well they're working
Digital Asset Management: integrated DAM powers your suite of marketing solutions
"Consumers are exposed to over 3,000 marketing messages each day," says Bill Nicholson, Vice President of Technology Solutions for BlueSky ETO. "As brands engage consumers across a growing list of platforms, maintaining brand compliance becomes a big concern. BlueSky ETO's Brand Marketing Centers make it easy for resource challenged marketers to follow brand guidelines while executing powerful omni-channel campaigns."
BlueSky ETO are masters of integration with each solution they develop integrated into the client's existing MarCom and production stack. Many clients choose to streamline collateral production through our internal printing resources, but we can also route all requests to existing vendors. BlueSky ETO's Brand Marketing Centers are scalable to grow with your business, allowing them to be just as effective for a national corporation with a dozen franchises as they are for a brand serving millions of global consumers.
BlueSky ETO has a proven track record of success. A turnkey campaign solution created for a major news publisher reduced the time needed to manage weekly mailings by 80%, and monthly administrative time from 40 hours to 8. A Marketing Resource Center created for a leading hotel brand reduced turnaround time for customized property-specific materials from 14 business days to two. Additional success stories are available among BlueSky ETO's growing list of case studies.
Explore the power of a BlueSky ETO Brand Marketing Center for yourself by launching The Flight Simulator. Learn how BlueSky ETO can engineer Brand Marketing Centers, Web to Print Solutions, Automated Marketing Campaigns, and Digital Asset Management systems to make your marketing more effective. Schedule your free consultation today.
About BlueSky ETO
BlueSky ETO is a software company focused on providing brand marketing solutions for distributed brands, franchisors, independent networks, and global brand management agencies. Their engineered-to-order offerings include Automated Marketing Campaigns, Brand Marketing Centers, Digital Asset Management, and Web to Print Solutions. For more information, visit http://www.blueskyeto.com.