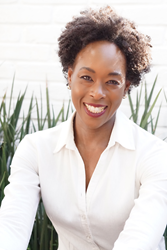 (PRWEB) March 20, 2017
The University of North Carolina at Greensboro (UNCG) today announced that Margot Lee Shetterly, best-selling author of the book "Hidden Figures," will present the commencement address to the university's 2017 graduating class on Friday, May 12, at the Greensboro Coliseum. "Hidden Figures" was made into a major motion picture nominated for multiple Oscars and Golden Globe awards.
"We are honored to welcome Ms. Shetterly to UNCG as our 2017 Commencement speaker," said UNCG Chancellor Franklin D. Gilliam, Jr. "I can't think of a better person to address our graduating class with a message of excellence and opportunity – that regardless of your background or socioeconomic status, incredible things are possible with hard work and commitment. 'Hidden Figures' brings to life UNCG's values of inclusion, opportunity and excellence. As our 2017 graduating class looks to the future, we are confident that they too, like the real-life heroes portrayed in 'Hidden Figures,' will go out into the world and accomplish great things."
The book and film tell the story of the pioneering female mathematicians, known as "human computers," who worked at NASA during the space race. "Hidden Figures" has a direct connection to UNCG; alumna Virginia Tucker '30 was one of five trailblazing women to join the first human computer pool at Langley Memorial Aeronautical Laboratory (now Langley Research Center) in 1935. Langley was the main research center for the National Advisory Committee for Aeronautics (NACA), the precursor to NASA.
When World War II broke out in 1939, more women were recruited as computers to conduct wind tunnel testing and other critical research for the military. Tucker recruited heavily at institutions across the East Coast, including UNCG (known then as the Woman's College of the University of North Carolina). In fact, UNCG graduated one of the largest cohorts of women who went on to work as human computers.
Commencement speakers at UNCG date back to 1893, with then-Governor Elias Carr addressing the students. Since that time, the university has welcomed ambassadors, governors, authors, university presidents, professors, bishops, ministers and other notable speakers throughout its history.
About The University of North Carolina at Greensboro
The University of North Carolina at Greensboro, located in the Piedmont Triad region of North Carolina, is a high-research activity university as classified by the Carnegie Foundation. Founded in 1891 and one of the original three UNC system institutions, UNCG is one of the most diverse universities in the state with more than 19,600 students and 2,500 faculty and staff members representing more than 90 nationalities. With 86 undergraduate degrees in over 100 areas of study, as well as 52 master's and 28 doctoral programs, UNCG is consistently recognized nationally among the top universities for academic excellence and value, with noted strengths in education, health and wellness, the performing arts, business and the arts and sciences, among others. For additional information, please visit uncg.edu and follow UNCG on Facebook, Twitter and Instagram.
About Margot Lee Shetterly
Writer, researcher, and entrepreneur Margot Lee Shetterly is the author of Hidden Figures: The American Dream and the Untold Story of the Black Women Mathematicians Who Helped Win the Space Race (William Morrow/HarperCollins). A 2014 Alfred P. Sloan Foundation Fellow and Virginia Foundation for the Humanities grantee, Shetterly is the founder of The Human Computer Project, an endeavor that is recovering the names and accomplishments of all of the women who worked as computers, mathematicians, scientists and engineers at the NACA and NASA from the 1930s through the 1980s. She is a native of Hampton, Virginia, where she knew many of the women behind the history in Hidden Figures. She lived for many years in New York and Mexico before moving to Charlottesville, Virginia, where she lives with her husband, writer Aran Shetterly. She is a graduate of the University of Virginia. For more information, visit http://www.margotleeshetterly.com
###