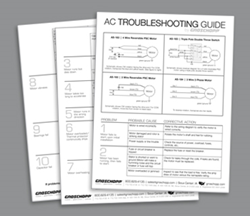 Sioux Center, IA (PRWEB) March 17, 2017
Groschopp Inc., a manufacturer of motors and gearmotors for the fractional horsepower industry, recently released a troubleshooting guide for AC electric motors. The guide gives probable causes and corrective actions for 10 common problems that impair an AC motor's ability to operate correctly. It also includes four wiring diagrams that correspond with Groschopp's AC motors and gearmotors.
10 Problems Addressed in the Troubleshooting Guide:
1. Motor fails to start upon initial installation
2. Motor has been running, then fails to start
3. Motor runs but dies down
4. Motor takes too long to accelerate
5. Motor runs in the wrong direction
6. Motor overloaded/thermal protector continuously drips
7. Motor overheating
8. Motor vibrates
9. Bearings fail
10. Capacitor fails
The complete AC motor troubleshooting guide can be found at http://www.groschopp.com/resources/troubleshooting-guide/.
# # #
For over 80 years, Groschopp Inc. has delivered expert technical assistance, superior product performance, quality-honed workmanship and industry experience in the manufacture of highly engineered fractional horsepower electric motors and gear motors for OEM and distribution products. With products designed and manufactured in the USA, Groschopp offers a full line of AC, DC, brushless DC and universal motors—as well as AC and brushless DC controls—that can be combined with right angle worm, planetary, right angle planetary or parallel shaft gearboxes. (An ISO 9001:2008 registered company.)
If you would like to know more about this topic, please call the Groschopp sales team at 712-722-4135 or browse the website with the following link: http://www.groschopp.com/.