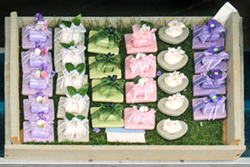 National Craft Month is a fitting showcase for the creativity and passion of people focused on making their visions into reality.
Denver, CO. (PRWEB) March 21, 2017
A Month to Recognize Those Who Create
March is National Craft Month, set aside to celebrate individuals who have a passion for crafting. When it's time to turn a craft project into a business venture, Lightning Labels can become a critical partner, and this special month is a perfect time to describe this special connection. A great packaging strategy can turn tireless effort into profit and popularity as consumers are drawn in by the attractive and attention-grabbing labels.
Custom labels are an excellent way to promote a product, especially when the item is produced by an individual or small company. Whereas large corporations have deep pockets to spend on ads and other marketing, smaller producers often rely on their labeling strategies to act as their main channel of promotion.
Crafts of All Kinds
National Craft Month covers a broad scope of projects. Customized labels from Lightning Labels can help a company or individual sell just about any kind of craft, from soap to jewelry and beyond. The following are a few examples of product types that can benefit from custom craft labels. Individuals selling these products should consider whether a new labeling strategy could help business, and those who are considering making the leap from hobbyist to business owner can look to labels as a sales tactic.

Candles: Candles add life and warmth to a room and are a beloved craft item. Since open flames hold danger, makers of candles have to think about safety labeling - and make sure their packaging can stand the heat. Fortunately, Lightning Labels offers custom labels specifically designed to work with candles.
Soap and other beauty products: Products for skin and hair care, from soap to shampoo to moisturizer and beyond are fixtures of the craft products world. Custom soap labels can help an independent brand stake out its place among the corporate giants that operate in this space, using bold imagery and text to show off what makes those items unique.
Jewelry: There is something unique and heartfelt about handmade jewelry. The stickers and labels to promote a line of products can play up the distinctiveness and identity of the line, perhaps letting purchasers know a little more about the people who made the items.
Labeling Excellence
National Craft Month is a great time for crafters to jump from making items for themselves to selling them to the masses. Brands that are just entering the marketplace can make their entrance with confidence and a highly developed visual identity by partnering with Lightning Labels. The all-digital printing processes favored by Lightning Labels ensure that it won't take long for a dream of better labels to become a reality.
"National Craft Month is a fitting showcase for the creativity and passion of people focused on making their visions into reality. It's great to know we can provide them with the branding tools to make hobbies into careers," said Lightning Labels Director of Business Development AnneMarie Campbell.
Lightning Labels' all-digital printing methods ensure that even small orders of labels are affordable. Low minimum order sizes and lightning speed combined with great customer service make Lightning Labels an ideal partner for National Craft Month and beyond.
About Lightning Labels:
Lightning Labels uses state-of-the-art printing technology to provide affordable, full-color custom labels and custom stickers of all shapes and sizes. From small orders for individuals to the bulk needs of big businesses, Lightning Labels is equipped to handle and fulfill custom label and sticker projects of all types. Best of all, like the name implies, Lightning Labels provides a quick turnaround for every customer's labeling needs. Uses for Lightning Labels' custom product labels and custom stickers include food packaging and organic food labels, wine and beverage labels, bath and body labels, and nutraceutical products, such as vitamins, essentials oils, and herbal remedies, as well as event stickers, adhesive window stickers and more. Lightning Labels strongly supports the development of environmentally friendly printing materials and carries EarthFirst PLA, a new kind of green label material made from corn instead of petroleum. While operating as a high-tech printer, Lightning Labels prides itself on its personalized customer service. Lightning Labels provides one stop shopping for all of your custom label needs. For more information and to place orders online, visit LightningLabels.com. For the latest in packaging news and labeling promotional offers, find Lightning Labels on Twitter (@LightningLabels), Facebook, Pinterest, Google+ and LinkedIn.