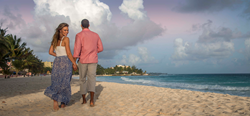 (PRWEB) March 20, 2017
The Caribbean is one of the top honeymoon destinations in the world. Recognizing the large number of couples who honeymoon at their resorts, and the increasing demand for experience-based wedding gifts, Divi Resorts recently partnered with the world's only full-service honeymoon registry provider, Honeymoon Wishes, to offer honeymoon registries to four Divi Resorts properties: Divi Aruba Phoenix Beach Resort, Divi Village Golf & Beach Resort on Aruba, Divi Little Bay Beach Resort on St. Maarten and Divi Southwinds Beach Resort on Barbados.
"Many couples are no longer looking for traditional wedding gifts," says Jason Price, director of revenue for Divi Resorts. "Rather than gifting another kitchen appliance that will never be used, honeymoon registries allow wedding guests to treat the couple to an incredible once-in-a-lifetime experience they'll never forget. We wanted to provide the options modern couples are looking for, so we decided to partner with Honeymoon Wishes to build honeymoon registries at our most popular resorts for honeymooning couples."
Couples can sign up for a personalized, customizable honeymoon registry at https://diviresorts.honeymoonwishes.com/. They can choose to accept contributions toward a wide range of experiences, services and amenities, including nights at the resort, fine dining, casual dining, spa treatments, welcome turndown packages, snorkeling adventures, sunset sails, flower arrangements and much more. Their wedding guests can also make general contributions toward the couple's stay.
Divi Resorts boasts stylish accommodations, friendly service and prime locations among the most picturesque surroundings in the Caribbean. Most Divi Resorts are all-suite properties, so guests are able to stretch out. Suites range in size from studios to two-bedrooms, and offer fully equipped kitchens, spacious living rooms and dining areas and private balconies or patios with ocean, pool or garden views. Divi Resorts also offer some of the most photogenic locations in the Caribbean for beach weddings. Each resort is packed with amenities that wedding guests as well as the bride and groom will enjoy, such as freshwater pools—some with swim-up bars, numerous on-site restaurants, tennis courts, kids' activity clubs, water sports centers and indulgent spas.
Divi Resorts' honeymoon registries are available at four Divi properties on Aruba, St. Maarten and Barbados. Couples may sign up at https://diviresorts.honeymoonwishes.com/. More information about honeymoon options at Divi Resorts can be found online at http://www.diviresorts.com/honeymoons.htm.
About Divi Resorts
Divi Resorts is the vacation expert of the Caribbean, with a collection of eight premium resorts spanning the five stunning Caribbean islands of Aruba, Barbados, Bonaire, St. Croix, and St. Maarten. With both hotel and vacation ownership options, the resorts provide a multitude of vacation pleasures, from relaxing on white sand beaches and indulging in spa services, to embarking on scuba diving adventures and perfecting one's golf swing. Vacation ownership is available through the Divi Vacation Club, a flexible, points-based product. For more information on Divi Resorts, call 1-800-367-3484 or visit http://www.diviresorts.com. For more information on the Divi Vacation Club, visit http://www.divivacationclub.com. Use of the Divi Resorts registered brand is licensed.
###