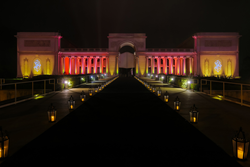 9 Projectors… 862 hours of content creation… 1 historic building… 1 very special night.
San Francisco, CA (PRWEB) March 20, 2017
9 Projectors…862 hours of content creation…1 historic building…1 very special night.
A month after their intimate wedding, one of our favorite couples decided it was time to really party down.
The majestic and historic Legion of Honor, perched above Lincoln park in San Francisco, became the focal point for their masquerade themed event...and the backdrop for a dazzling light show. Working closely with the brilliant team at Shannon Leahy Event Planning & Design, the couple teamed up with Got Light to produce a surprise masterpiece for its guests.
This audio visual narrative involved a process known as video mapping or "projection mapping". Projection mapping is a video technology used to turn objects into a display surface for video projection. These objects may be complex industrial landscapes, such as buildings, small indoor objects or theatrical stages. In this case, the object was the 7000 cubic yards of concrete and million pounds of reinforcing bar that make up the famed Legion of Honor. By using specialized software, the facade's surface was spatially mapped, allowing graphics and visuals to be intricately placed on key details of the architecture.
After dinner inside a lavishly tented Court of Honor, guests were invited to the front lawn for the unveiling. Little did they know the entire facade of the gorgeously appointed French Pavilion would come alive with an audio-visual feast.
The entire party faded to black and the soundtrack for the couple's story began to play under the crowd's whispers. As the music began to build, an intricate animation unfolded onto the building, showcasing various elements of the couple's personalities and life stories using a diverse range of graphics, visuals, characters, animations, atmospheric transitions, and more.
Got Light was proud to create this stunning video masterpiece. Huge thanks and congrats to our design partners Shannon Leahy Event Planning & Design, Lucid Creative, Componere Fine Catering, and Hensley Event Resources.
Photography and video footage captured by Show Ready Photo & Lucid Creative.
To watch a brief sneak peak of Got Lights video mapping on the Legion of Honor click here.
To watch the full video click here.
About Got Light: Established in 2004, Got Light is the San Francisco Bay Area's leader in producing artistic lighting and event design, creating dramatic environments with light, audio, video, projection art, video mapping, drape, and staging. They have built a reputation for providing five-star customer service, creative solutions and innovative designs for a diverse range of events. Got Light has been deeply rooted in the non-profit community of the larger San Francisco Bay Area for over a decade, exceeding organizations' fundraising goals for auctions, galas, awards ceremonies, and more.
Visit Got Light at http://www.got-light.com
To read more about the Legion of Honor video mapping click here