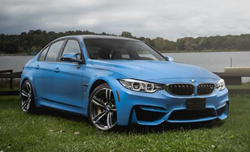 Other car buying sites work for dealers. FastBuy works for you and negotiates on your behalf
Warren, NJ (PRWEB) March 21, 2017
Did you ever go to a car dealership to negotiate car price? The endless parades of the salesmen and the tiring back and forth with their managers can frustrate and frighten consumers. FastBuy's new service is aiming to eliminate this dreadful car buying experience. FastBuy is like Groupon. We get the best car lease and purchase deals by grouping car buyers of the same make in a given location to get best deals possible. We negotiate the price with the dealers on behalf of consumers so they can just walk in, sign papers and drive off with their cars. Our price negotiation is done by skillful price negotiators and is based on industry research and current market price of different cars. Customers get the peace of mind knowing that they will get the best deal.
Three simple steps on how this works:
1. A consumer fills this form on FastBuy site providing details of the car.
2. A FastBuy representative will contact the consumer with any questions on the model or options needed in the car.
3. FastBuy then works with around 10 dealers in that area and negotiates the best price on the lease or purchase of the car. FastBuy then provides this information to the consumer who can then visit the dealership, sign papers and drive off with his/ her dream car. FastBuy charges a small service fee to the consumer.
Since FastBuy is paid by the consumer, their best interests are taken car of. Other car buying sites work for the dealers and paid by dealers and hence their prices are never the best in the market.
As one of our customers put it:
"Thank you for making one of life's most tedious, frustrating and intimidating tasks, buying a new car, much easier. I got a great deal, with a minimum amount of fuss--no haggling with the endless parade of dealership managers. Many thanks!"
Our mission is to make car buying and leasing easy and hassle free with the best pricing available and we hope to continue to work on our mission for years to come. Current lease deals are here. Visit us at https://fastbuyinc.com to learn more.