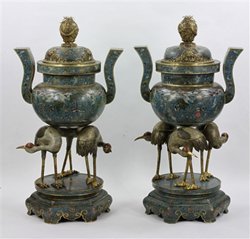 (PRWEB) March 20, 2017
On March 26, 2017 Kaminski Auctions will hold a two session Asian Art and Estate Auction starting at 10:00 am.
The Asian session highlights includes a collection of fine Mughal Indian swords from a Houston, Texas estate. Many of the swords are intricately carved with animal form hilts and gilt floral inlays. There is also, an early Middle Eastern hand written Koran with gilt pages and leather binding conservatively estimated at $1,500-$2,500 from the same collection.
Asian art of note includes two paintings by the Pakistani artist Abdur Rahman Chughtai, (Pakistan, 1894-1975). A watercolor gouache, portrait of a woman, signed lower left and a watercolor and ink of a woman with bird are both from the collection of Mrs. Farooqui Nawab of Hyderabad, India. They are estimated at $4000-$6,000 and $2,000-$3,000 respectively.
Asian porcelain highlights include a pair of large and rare Chinese cloisonné censers. Decorated with motifs of crane, deer, ruyi and plants, three cranes form the base and the covers are exquisitely carved and pierced with dragons and clouds. They are topped with a ball finial and coiling dragons and are valued at $20,000-$40,000.
There is also an important Chinese Yuhuchun vase from the Qianlong period. It is enamel on famille rose and decorated with peony, bamboo and rockery motifs estimated at $6,000-$9,000. Another very fine piece in the sale is a Chinese sang-de-boeuf Yuhuchun vase of pear-shaped form. It is covered in a deep red glaze with the Qianlong mark on the base and has the original wood stand. Acquired in Derbyshire, England in 1972, it stands 10 and half inches high and is from The Travis Brock Collection of Monochrome Ceramics, Bethesda, Maryland. The vase is estimated at $5,00-$9,000.
Important jade entries include a Chinese carved jade seated Luohan figure measuring 6 1/2inches high valued at $4,000-$6,000 and a
Chinese carved jade teapot with embossed immortal figures in relief on one side and incised with a poem on the other side estimated at $1,500- $2,500.
Highlights of the Estate Session include a Raoul Dufy (French 1877-1953) Fauvist landscape with church, oil on artist board from a Palm Beach estate valued at $30,00-$50,000, There is also an important 19th century credenza with marble top and fur intricately carved inlaid panels with classical motifs and gilt borders valued at $5,000-$8,000.
Other items of interest include a collection of Northwest Indian baskets, a model of a two mast schooner with carved wooden sails with original case from a Boston, Massachusetts collection and an 18K yellow gold men's Rolex Oyster watch with stainless steel bracelet and a superlative chronometer case.
In addition to the live Asian Antique and Estate Auction on Sunday, March 26th Kaminski Auctions is hosting an online and live auction on Saturday, March 25th, which will is available to view online now.
The spring schedule continues with Estate Auctions planned for April 9th and April 23rd. For more information go to http://www.kaminskiauctions.com and sign up t bid with KaminskiLIVE.