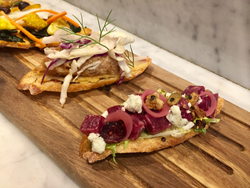 If you're visiting Newport I definitely recommend taking this tour. And take it early in your trip because you're going to visit restaurants that you will want to definitely explore more or visit again to taste more of the menu! Come hungry I was STUFFED!
Providence, RI (PRWEB) March 21, 2017
Taste buds will lead the way to a great vacation. Rhode Island has one of the fastest growing food scenes in the country, and for good reason. With Providence being home to internationally acclaimed Johnson and Wales Culinary Arts School, many graduates have decided to remain and showcase their talents in the Ocean State. Between Providence and Newport, all culinary fantasies will be fulfilled. Rhode Island Red Food Tours has it covered.
Providence is one of America's hottest food cities. The Downcity Providence Tour is a new addition for 2017. All restaurant partners have built strong relationships with their local farmers and purveyors ensuring the freshest seasonal ingredients and the tastiest dishes. A food and culture ambassador leads guests through Downcity Providence, sharing its history, art, culture and architecture. Artists and creators have collaborated to make the Creative Capital a one-of-a-kind destination.
There are six tasting locations on the Providence Downcity Food Tour, totaling at least ten bites and sips. From a Parisian-inspired bakery that grows many of their own ingredients to a made-from-scratch kitchen taking pride in supporting local farms and breweries. In between are a series of unique and delicious offerings from the traditional to ethnic originals, not to mention a prestigious award-winning fine dining restaurant. Downcity Providence Food Tours are offered Thursday – Saturday from 12 pm to 3:30 pm. Private tours are also available on request.
Newport is full of historic charm. This seaside town is a hotspot for vacationers from all over the world. The Newport Beaches are among the best in New England and the seafood is fresh. The historic Newport Mansions are a must-see for visitors. A professional tour guide leads guests through Newport's cobblestoned streets, pointing out the early colonial architecture and vivid history. The streets of Newport tell so many stories.
There are also six tasting locations on the Newport Neighborhood Food Tour. There will be a creative burger and hot dog joint, a historic tavern serving locally-inspired Mexican dishes, a seafood shack offering the freshest locally caught shellfish right off the boats of Newport Harbor, a waterside café for breakfast and lunch, a pub offering the ultimate in comfort food and locally crafted beer, and a vintage mansion offering an elegant dining experience and the best rooftop sunset harbor views.
Newport Neighborhood Food Tours are offered every Friday and Saturday from 12 pm to 3:30 pm.
Rhode Island Red Food Tours in Providence and Newport begin on April 21 and run until late November. Tickets start at $65 per person with up charges for alcohol pairings.