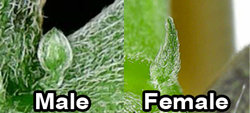 Male cannabis plants do not produce commercially viable flowers. Only female plants are grown for their flowers. Over the last several years, we've discovered new ways to identify male plants at a very young age.
San Diego, Ca (PRWEB) April 17, 2017
Two experienced medical marijuana growers from California release the results of a comprehensive case study identifying techniques to determine sex of young cannabis seedlings.
Traditional growing methods require weeks to months to identify plant gender, while several techniques developed in recent years allow growers to identify the gender of seedlings as young as 1-3 weeks old. The results were published on Growweedeasy.com.
Cannabis is a dioecious species that has separate male and female plants, but only female cannabis plants produce flowers that are commercially viable, meaning medical marijuana and other cannabis growing based businesses have an incentive to detect gender as soon as possible.
Although it was once considered impossible to determine gender of young cannabis plants, the study reports on several techniques that identify gender several weeks to a month earlier than traditional growing methods, including specialized techniques for examining plant morphology, specific seed stock selection and DNA leaf testing using the real-time polymerase chain reaction (qPCR) to detect what's essentially the Y-chromosome of young male plants.
One of the growers, who goes by the growing pseudonym Nebula Haze, states, "Cannabis growers generally only want to invest in growing female cannabis plants because male plants do not produce commercially usable flowers. The problem is you historically needed to wait until the plant naturally started making flowers before you could determine which plants are male and which are female. With the new techniques and chemical testing available today, it's possible to determine the sex of a cannabis seedling that's as young as one week old."
In addition to plant gender, they published results on determining the potency and cannabinoid profile of young cannabis plants.
Haze explains, "We've discovered ways to test for future cannabinoid levels in growing marijuana seedlings as young as 3 weeks old. For medical marijuana patients, this allows them to choose suitable plants for their symptoms from when a plant is just a seedling. In the past you had to grow a plant to harvest over the course of about 4 months, and test the buds before you could learn if it had the medical effects and cannabinoid ratios you're looking for. The potential use of this technology for patients, medical professionals and breeders is astounding."
The production of cannabis is illegal according to the federal government of the United States, but in seven states including California, cannabis possession is legal for adults even for recreational purposes. In all legal states except Washington, adult residents are also allowed to legally cultivate cannabis in their home. There are currently 28 states and DC which have legalized cannabis for medical purposes.