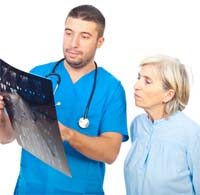 Total tumour thickness had a significant impact on overall survival and disease-free survival.
Raleigh, NC (PRWEB) March 20, 2017
Researchers in Toronto have just released what they are calling "extremely encouraging" results of a study comparing mesothelioma tumor thickness to outcomes. Surviving Mesothelioma has published a new article on these findings. Click here to read it now.
The University of Toronto study included 65 newly-diagnosed patients with pleural mesothelioma. The thickness of their tumors was measured with imaging studies and compared to their eventual treatment responses.
"Total tumour thickness had a significant impact on overall survival and disease-free survival in univariate analysis," writes author Marc de Perrot, MD, a thoracic surgeon at Toronto General Hospital. "In multivariate analysis, total tumour thickness remained an independent predictor of survival…"
According to the article in the European Respiratory Journal, people with thicker tumors had higher tumor volume and lower odds of mesothelioma survival. Thickness of mesothelioma tumors on the diaphragm had the closest correlation to length of life.
"The researchers call these results encouraging because they suggest a way to refine the cancer staging process and make more informed decisions about radical mesothelioma treatment, which can be very challenging" says Alex Strauss, Managing Editor of Surviving Mesothelioma.
To read more about the potential correlation between mesothelioma tumor thickness and mesothelioma survival, see Mesothelioma Tumor Thickness May Help Predict Treatment Outcomes, now available on the Surviving Mesothelioma website.
De Perrot, Marc, et al, "Impact of tumour thickness on survival after radical radiation and surgery in malignant pleural mesothelioma", March 15, 2017, European Respiratory Journal, http://erj.ersjournals.com/content/49/3/1601428
For more than a decade, Surviving Mesothelioma has brought readers the most important and ground-breaking news on the causes, diagnosis and treatment of mesothelioma. All Surviving Mesothelioma news is gathered and reported directly from the peer-reviewed medical literature. Written for patients and their loved ones, Surviving Mesothelioma news helps families make more informed decisions.