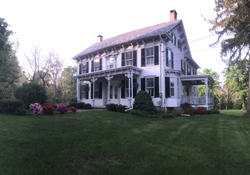 Proper evaluation, treatment, and monitoring is essential to encouraging healthy growth patterns, while decreasing the risk of invasive weeds from sprouting.
Huntingdon Valley, PA (PRWEB) March 20, 2017
Giroud Tree and Lawn has released a step by step guide and video on the importance of treating lawns now for invasive crabgrass, and applying a Spring mix fertilizer. Crabgrass is a rapidly spreading weed that can take over a lawn in a short period of time, and is very difficult to eliminate. Early spring provides the only time to lay down a pre-emergent crabgrass barrier to greatly decrease the chances of this weed growing. Along with this crabgrass treatment, a Spring fertilization mix should be applied to help optimize a lawn's root system and encourage healthy growth. The company reports that once the window to spread these early Spring lawn treatments has passed, the chances of crabgrass overtaking a lawn greatly increases.
In the article published on Giroud Tree and Lawn's blog, the company advises a three step approach to build a healthy green lawn:

Evaluation: Have a Licensed Lawn Service Professional evaluate the lawn, complete a pH test to determine soil balance and analyze what's needed for optimum health.
Lawn Treatment Program: Based on the evaluation, a custom program should be developed that may include lime if soil is too acidic. Many homeowners will want to consider a 100% organic lawn treatment program that is pet-friendly and safe for children.
Monitoring: Lawn health can change quickly due to factors like heat and rain. Monitoring by a PA Certified Applicator should be done through the growing season to identify and treat problems early before they overtake the lawn.
Accompanying the article is a video by Rob Nagy, Giroud ISA Certified Arborist, showing how Kasey Mihalek, Giroud Lawn Technician, applies early Spring lawn treatments. Rob commented on the video saying: "Crabgrass is very hard to get rid of once it starts growing on a lawn. That's what makes this early Spring treatment so important. By getting a crabgrass pre-emergent and weed control down in early spring, the chances of crabgrass and other weeds growing is greatly reduced, leading to a more beautiful and healthier lawn. But the window to get the service is closing fast. It needs to get done soon."
Giroud Tree and Lawn has already begun servicing homeowners across the greater Philadelphia area. The company offers a traditional and 100% organic lawn treatment program based on each unique lawn's needs. Those interested in learning more on Giroud Tree and Lawn's Lawn Treatment Program should visit their website at http://www.giroudtree.com or give the company a call at 215-682-7704.
About Giroud Tree and Lawn
Giroud Tree and Lawn specializes in tree service, tree removal and lawn care programs that make customers love doing business with the company since 1974. Serving Bucks, Montgomery and Philadelphia Counties, the company offers professional tree and lawn evaluation, tree pruning, tree removal, insect and disease control, fertilizing, stump removal and traditional and 100% organic lawn programs to keep lawns healthy and green . Giroud Arborists are certified by the International Society of Arboriculture (ISA) and have the knowledge and experience required to properly diagnose, treat and maintain trees and lawn health. The company is Accredited by the Better Business Bureau and has been awarded the Angie's List Super Service Award® every year since 2005. The "Giroud Treework for Charity" program donates free tree care services to parks, historical sites and other non-profit organizations located in the Company's service area. For more information, visit the company website at http://www.giroudtree.com or call 215-682-7704.