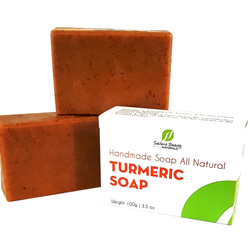 A New Natural Turmeric Soap Launches at Sublime Naturals (and on Amazon) This Week. Use the Best of Nature for Personal Care.
St. Petersburg, FL (PRWEB) March 20, 2017
Turmeric has been called the "Wonder Spice", thanks to its proven anti-inflammatory and antioxidant powers.
Sublime Naturals, which already carries a popular Turmeric essential oil, launches its all-natural Turmeric Soap today. For a limited time, buy 2 and get 15% off at Amazon with code 15TURMSP. Copy the code and purchase here.
"The soap is a joy," says founder Kathy Heshelow, author of the new Kindle short book "Turmeric: How to use it for your wellness."
The soap is made with Turmeric, Coconut Oil, Seaweed and Beeswax and foams up beautifully with no staining or discoloration. Says Heshelow, "There are no preservatives or ingredients that could be adverse for wellness. Remember, what you put on your skin is absorbed into your body systems (up to 70%). This soap could be helpful to those with arthritic pain in their hands, along with other therapies."
Heshelow said the company constantly looks for healthy products that fit with the company motto: Make Healthy Choices, Respect Your Body, Love Nature.
Turmeric (and it's active ingredient Curcumin) is helpful to every skin type, but can be especially helpful for sensitive skin, can help with acne thanks to its anti-bacterial qualities, and is known to help eczema.
Those who are not Amazon Prime members can purchase the turmeric soap at SublimeNaturals with free standard shipping. Use code 2TSOAP15 for 15% off with purchase of two.