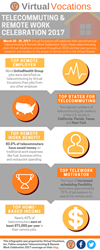 Telecommuting continues to be a growing trend each year within most career fields, and as such, we have made it a priority to celebrate the many benefits working remotely provides to individuals, families and companies. -Laura Spawn, Virtual Vocations CEO
Tucson, AZ (PRWEB) March 20, 2017
Telecommuting & Remote Work Celebration Week 2017 is a six-day event spanning March 20 – 25, 2017 and celebrating telecommute job seekers, the telecommuting lifestyle, and the benefits of remote work.
During Virtual Vocations' event, visitors to the Virtual Vocations website and blog will receive a variety of exclusive offers as well as brand new telecommuting tips and resources to improve their job search experiences, learn more about ways Virtual Vocations can help them discover and apply to high quality telecommute job leads, and strengthen their hireability using expert insight from Virtual Vocations' telecommuting team.
Laura Spawn, CEO of Virtual Vocations, commented, "Telecommuting continues to be a growing trend each year within most career fields, and as such, we have made it a priority to celebrate the many benefits working remotely provides to individuals, families and those companies that provide the flexibility of working from home."
Remote work facilitates a variety of professional and personal benefits to telecommuters such as no daily commute time, money saved from decreased work expenses, improved productivity and job satisfaction, a smaller carbon footprint, and increased home and work flexibility. Virtual Vocations is excited to celebrate these and so many other telework benefits during Telecommuting & Remote Work Celebration Week 2017.
From March 20 through March 25, 2017, Virtual Vocations will share daily blog content including the findings of their most recent telecommuting survey on the remote work benefits telecommuters love most, 20 companies in a telework hiring spike, insider productivity hacks straight from Virtual Vocations' own team members, a fresh list of no-fee telecommuting job leads recently added to the Virtual Vocations Telecommute Jobs Database, and a top-40 list of the best remote work perks of all time.
For complete coverage of Virtual Vocations' Telecommuting & Remote Work Celebration Week 2017, visit the Virtual Vocations website, blog, and social media profiles on Facebook and Twitter throughout the week.
About Virtual Vocations:
Virtual Vocations is the largest and most comprehensive online database of telecommute-only jobs. Offering more than 40 diverse career categories and customizable search filters, Virtual Vocations is committed to helping job seekers gain an advantage in the competitive telecommute job market by finding quality job leads faster and easier. Virtual Vocations has assisted over half a million people in their search for flexible, telecommute jobs and is dedicated to bringing subscribers scam-free job leads that offer some form of telecommuting or virtual work. Virtual Vocations is a private family-owned and operated company based in Tucson, Arizona.