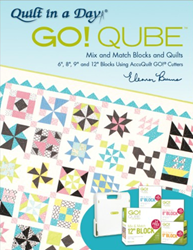 Omaha, Nebraska (PRWEB) March 21, 2017
AccuQuilt is proud to announce the release of celebrity quilter, Eleanor Burns' new book: GO! Qube Mix & Match Blocks and Quilts Second Edition.
AccuQuilt has an introductory offer on this new edition. For a limited time, the book is being given away free with a purchase of any GO! Qube Mix & Match Set. This is a $24.95 value.
This expanded, second edition how-to quilting book now has 162 pages. It includes step by step instructions on how to create and sew blocks using the GO! Fabric Cutting System. It also features 62 block patterns for each GO! Qube size, detailed instructions for 6-, 8-, and 12-inch GO! Qubes, and a Block of the Month project.
This second edition book introduces quilters to AccuQuilt's GO! Fabric Cutting System. It also familiarizes quilters with the AccuQuilt Mix and Match Block System using the innovative GO! Qube. The book makes it easy for quilting shops that want to conduct a Block of the Month class, too.
A lifelong quilter, Eleanor Burns self-published her first book, "Make a Quilt in a Day: Log Cabin Pattern" in 1978 and launched a quilting revolution. Her Quilt in a Day TV series aired in 1990. She has become a prolific author with over 100 "how-to" quilting books to date. She's also a respected quilting teacher, popular television personality, and is celebrated in the quilting community.
"We are excited for quilters to pick up a copy of Eleanor Burns' newest edition," said AccuQuilt President Greg Gaggini. "She is such a treasure to the quilting community and we couldn't be prouder to have our GO! Qube Mix & Match featured in this expanded second edition book."
GO! Qube Mix & Match Blocks and Quilts Second Edition and a variety of Eleanor Burns' other how-to books can be found on the AccuQuilt website.
About AccuQuilt—Better Cuts Make Better Quilts
Headquartered in Omaha, Neb., AccuQuilt offers quilters, fabric crafters and retailers a premiere line of fabric cutters, dies, quilting patterns and other quilt and fabric cutting solutions that help quilters quickly and accurately cut shapes for quilting and fabric crafts. AccuQuilt also offers quilters a wide variety of rich educational resources to enhance their quilting experiences. Cutting with AccuQuilt cutters is a natural evolution of fabric cutting methods. "First scissors…then rotary…finally…AccuQuilt" for fast, easy, accurate fabric cutting. For more information, visit accuquilt.com or call 888.258.7913.