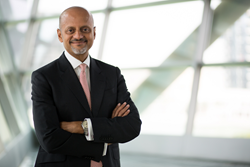 Based in Dubai DMCC can help these businesses establish their global footprint, trade with confidence and access new markets, in the same way that we have welcomed over 13,000 thriving companies since 2002
(PRWEB) March 20, 2017
DMCC, the authority on trade, enterprise and commodities in Dubai, today released its report 'Free Zones: Brexit Security for British SME's' with research indicating that 42 per cent of UK businesses (2.3 million) are interested in expanding their operations abroad to leverage new opportunities in the post-'Brexit' era.
Of the UK-based businesses that have expressed interest in expanding their operations overseas, 75 percent say they are looking at Dubai as a potential expansion destination. According to the report, key reasons that UK businesses are eyeing overseas expansion include the attractiveness of emerging markets, growing needs for a global presence, along with the availability and wealth of overseas talent and resources.
Revealing the findings of the report in London which also marks DMCC's launch of its international road show 'Made for Trade Live' at the Institute of Directors Pall Mall headquarters, Gautam Sashittal, Chief Executive Officer, DMCC, said:
"While research reveals that the full impact of the UK's exit from the European Union is unlikely to be felt for another two years, British businesses are clearly identifying international opportunities to expand their operations and complement current business activities in new markets. Based in Dubai, DMCC can help these businesses establish their global footprint, trade with confidence and access new markets, in the same way that we have welcomed over 13,000 thriving companies since 2002."
Emma Kirkman of the British Centres for Business in Dubai said: "We are definitely seeing more interest in exporting and opening in Dubai. The UAE is the fourth-largest export market for the UK outside of Europe, so it is a natural next step for many companies looking to expand internationally. Given the strong existing ties between the UAE and the UK, and the fact that many people are aware of Dubai as a tourism destination, it is often at the forefront of people's minds when looking at new markets."
That said, report findings also saw some 13 per cent say that a barrier to overseas expansion is the complexity of the exercise. "This is where free zones like DMCC come in. We have made company formation in Dubai smooth and seamless. Once your business is up and running, we provide end-to-end support and networking opportunities such as the Made for Trade roadshow in order to connect businesses and people," said Krysta Fox, Executive Director, Free Zone, DMCC.
The 'Made for Trade Live' roadshow showcases the benefits of setting up a company in a Free Zone and takes DMCC and its partners to Birmingham 23 March followed by events in China, India and Germany.
Download the full report: 'Free Zones: Brexit Security for British SME's' here.
About DMCC
Established in 2002 as a strategic initiative of the Government of Dubai to enhance commodity trade flows through Dubai, performing several roles which have firmly established Dubai as a regional and international commodities trading hub. DMCC provides the physical, market and financial infrastructure required to set up and operate a thriving commodities marketplace, everything from gold, diamonds, pearls, precious metals and tea.
DMCC is officially recognised as the largest Free Zone in the United Arab Emirates with over 13,000 registered companies under license, registering about 170 companies a month, 95% of which are new to Dubai. This includes major multinational companies, SMEs and start-ups in the commodities sector have made DMCC Free Zone their home.
Awarded the Global Free Zone of the Year by the Financial Times fdi magazine, DMCC Free Zone is an ideal place to set up a company quickly and grow business beyond Dubai's borders providing a global gateway for trade. http://www.dmcc.ae