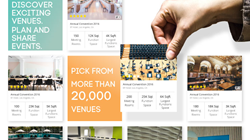 Los Angeles, California (PRWEB) March 20, 2017
EventForte recently introduced the Venue Directory, a comprehensive open resource to explore and book venues around the world. The Venue Directory allows event planners to source venues, submit RFPs, and plan events at no cost.
The Venue Directory is currently commonly used by event planners to find venues by filtering through location, star rating, and function space metrics. After finalizing their venue selection, event planners can design event diagrams, create seating charts, manage guest lists, and showcase their event with three dimensional rendering.
On the other end, venues that list themselves on the EventForte Venue Directory are given full control over what information is provided to event planners. Doing so allows venues to not just monitor basic information such as address, phone number, and website URL, but also event space information such as the names of all event spaces, dimensions, and capacities.
To simplify communication between venues and event planners, all venues that list on the EventForte Venue Directory are also provided an interactive tool that can be deployed to Facebook in two clicks. This interactive tool enables event planners visiting a hotel Facebook page to virtually tour function spaces in 3D and start planning events.
The Venue Directory can be accessed at https://portfolio.eventforte.com.
ABOUT EVENTFORTE, INC.
EventForte, Inc. is a hospitality technology firm that provides an all-in-one event management cloud platform. EventForte simplifies the event management process by empowering event planners and venues with easy-to-use event planning tools that feature cutting edge technologies such as artificial intelligence, accurate 3D rendering, and virtual reality. To find out more, visit https://www.eventforte.com.