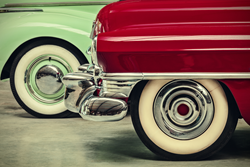 It's easy to find and join new bike rides. My Harley likes it too. Someday, I might post my own bike ride for others to join.
Atlanta, Georgia (PRWEB) March 21, 2017
Mr. White was asked to explain in his own words the addiction-like passions towards auto shows. He uncovers, "All car enthusiasts have the same attraction to auto shows. It's that kid-like excitement when their 'Christmas Day eyes' light up at the sight of a vehicle well presented, well-preserved."
According to Los Angeles (CNN), when Kendall Jenner isn't shooting campaigns for the world's top fashion houses, or filming "Keeping Up With the Kardashians" with her famous family, she can often be found cruising the roads of Los Angeles in one of her classic cars.
A car show event called, Classics & Coffee was found on 360AutoMarket.com where car enthusiasts gather to display pre-1960 vehicles. Eric was asked about other auto show events in his new automotive community. This was his response, "Not all automotive events are as opulent as Atlanta International Auto Show. Nevertheless, our automotive community features off-road car shows, bike rides, and local races like Drift Atlanta presented by Papa John's." He adds, "Even local auctions are found here; they are car shows, too!"
Mr. White finalizes interview by saying, "I believe that our automotive community delivers on its promise to provide the perfect place for a perpetual car show fix." He also states that auto-related events can be posted for free under the Event Options tab at http://360automarket.com/advertise.
Sandra Powell reports.