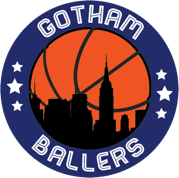 "Gotham Ballers and the Champions Basketball League are changing the game for sports fans and we wanted to be a part of that."
New York, NY (PRWEB) March 21, 2017
The Gotham Ballers, a new professional basketball team made up of players straight out of the NBA as part of the Champions Basketball League, announced today a partnership with marketing powerhouse Steiner Sports. The partnership will connect a legion of engaged sports fans with the Gotham Ballers and Champions Basketball League, a dynamic professional summer basketball league, to provide unprecedented access and experiences for fans.
This marketing partnership showcases the "Ultimate Collectable" from Steiner Sports, which is professional sports team ownership, now available for the Gotham Ballers. In addition, Steiner Sports will be a partner for game-used and autographed memorabilia for the 160 athletes in the league, including NBA All-Stars and Hall of Famers, and will work with Champions Basketball League to create exclusive events with the athletes for fans.
"Steiner Sports has been a pioneer of the fan and athlete relationship for 30 years," said Carl George, CEO of Champions Basketball League. "Together we will produce world class fan experiences and additional revenue opportunities for our athletes – so win, win, win, win."
"Gotham Ballers and the Champions Basketball League are changing the game for sports fans and we wanted to be a part of that," said Kelvin Joseph, Steiner Sports' Chief Operating Officer and Chief Marketing Officer. "We look for unique offerings for our customers and Corporate partners, so this is not only a perfect fit for our fans, but a very exciting opportunity for our business."
Gotham Ballers is currently available for fan ownership by visiting OwnGothamBallers.com. Steiner Sports will begin to market this "Ultimate Collectable" to its vast network of sports fanatics immediately, as the two groups also begin to create other exclusive fan experiences to be held in the near future.
About the Gotham Ballers
The New York Gotham Ballers are a member of the Champions Basketball League. The Gotham Ballers front office includes NBA Champion and Hall of Famer Walt Frazier as team President, NBA Champion and Hall of Famer Earl Monroe as General Manager, and former New York Knicks player and Syracuse University standout John Wallace as Coach. The Gotham Ballers player roster includes NBA stalwarts like Al Harrington, Kenyon Martin, Shawn Marion, Kareem Rush, Tyshawn Taylor, Jamaal Tinsley, Daniel Gibson, Renaldo Balkman Chris Smith and Anthony Mason Jr. With all athletes straight out of the NBA, these guys got game. Visit http://www.gothamballers.com.
About Steiner Sports
Steiner Sports specializes in helping companies from new startups to Fortune 500s use the power of sports to grow their business. The core of Steiner Sports' value proposition, allows companies to leverage its expertise, existing relationships, and $25 million annual athlete procurement spend. Steiner Sports determines what sports marketing strategy will benefit the company the most, providing access to the right athletes at the right time, negotiating contracts for the best deals, and measuring and analyzing results to ensure ROI. Steiner Sports has spent 30 years building relationships with more than 2,000 athletes, national relationships with the major sports leagues, and partnerships with the best teams in sports. Based on Steiner Sports' comprehensive relationships with many of the marquee names in sports, they remove the traditional obstacles and put the most powerful business builders to work for you through athlete appearances, turnkey events, local and national promotions, and digital content. Steiner Sports is also the leading producer of authentic hand-signed memorabilia, which is perfect for loyalty programs, sales incentives, customer activation, and corporate gifts. Visit https://www.steinersports.com/pages/marketing.
About Champions Basketball League
Champions Basketball League is a sports marketing company, with an exciting brand of sports and unique programming that is all about the fans. Champions Basketball League delivers fan's favorite players straight from the NBA, featuring a 2017 exhibition season and a 16-team professional summer basketball league coming this summer that is built for fan fun. Champions League will host year-round charity events, camps and community-based programs in all 50 states and connect fans and athletes through a bold new sports marketing model, with tickets priced at $25 that includes a meet & greet and a pre-game youth shoot around with the players. Social responsibility is a cornerstone of the organization. Year-round programming will include hundreds of community and internet-based events featuring Champions League players and coaches to benefit charity partners. Champions has assembled a highly accomplished leadership team that brings together decades of professional sports, marketing and management experience to lead the league's teams and in its marketing activities. More information can be found on their website at http://www.champshoops.com.