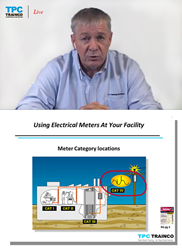 Whether you've had a citation or simply live in the real world where the risk of violations exists, you won't want to miss this webinar
Buffalo Grove, IL (PRWEB) March 21, 2017
TPC Training Systems, the leading provider of industrial skills training, will hold an informational webinar on April 26, 2017 to address the procedures that industrial facilities should take when they incur a safety citation from OSHA. The webinar will outline how to correct a hazard and establish a safety culture within the workplace, thereby avoiding frequently cited violations in the future. This webinar is ideal for plant and facility managers, as well as anyone with an interest in workplace safety.
In the webinar, "Life after an OSHA Citation: Turning a Black Mark into a Better Workplace," TPC Trainco instructor and Master Electrician Bob Clukey will demonstrate how facilities that receive a violation after an OSHA inspection can become even stronger and safer when the right actions are taken. This webinar is designed to cover a range of common violations, including lock-out/tag-out, electrical wiring problems, and fall protection safety. The session investigates how training reinforcement, in-response to correcting cited hazards, will help you achieve heightened awareness, responsibility, and communication throughout your facility.
"While safety should be a top priority in all working environments, mistakes and accidents happen in industrial facilities every day," said Andrew Kauser, CEO TPC Training Systems. "Whether you've had a citation or simply live in the real world where the risk of violations exists, you won't want to miss this webinar."
Along with the upcoming webinar, TPC Training Systems now offers OSHA -10 equivalent online training courses that are designed to create a safety-focused culture in the workplace and address the most common occurring safety violations. Safety course topics in the OSHA-10 equivalent safety library include:

Safety Orientation
Introduction to OSHA
Walking & Working Surfaces
Fall Protection
Emergency Planning
Fire Prevention & Safety
Electrical Safety
Personal Protective Equipment
Hazard Communication
Materials Handling Safety
Machine Guarding
Bloodborne Pathogens
Industrial Ergonomics
TPC Trainco, the instructor-led training division of TPC Training Systems, also offers a 2-day training course on OSHA and NFPA 70E electrical safety standards in both classroom and simulcast formats.
For additional information about the webinar "Life after an OSHA Citation: Turning a Black Mark into a Better Workplace" or TPC Training Systems, visit http://www.tpctraining.com or call 847.808.4000.
About TPC Training Systems: TPC Training Systems is a privately held company with headquarters in Buffalo Grove, IL. As part of Telemedia, LLC, the company offers a complete portfolio of training methods, including online, classroom, virtual, and on-the-job. The company has helped more than 40,000 client sites globally to train over 3.5 million skilled workers.