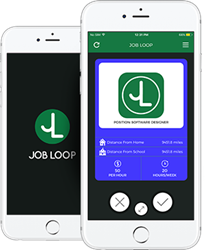 We've focused on bridging the divide between employers and job seekers.
(PRWEB) March 23, 2017
Hiring app, Job Loop, is now available on iOS and Android.
Job Loop connects employers with hourly employees quickly and efficiently through a streamlined user interface. By researching and refining the way prospective employees seek hourly positions, Job Loop has created an app with a new approach to the hourly hiring process.
Employers simply post their position's details, and job seekers swipe through a queue of potential positions applicable to them. It's an elegant alternative to wading through online classified sites.
"We've focused on bridging the divide between employers and job seekers," says Patrick Smith, Founder. "We took the most common complaints from employers and employees and addressed them head on with Job Loop."
The most common complaint of companies seeking help is the fact their job listings are often obscured by unrelated ads or posts. Job Loop's specialized algorithms ensure that no job listing is lost in the noise of classified ads or spam.
But Job Loop is more than just an app. It's a dedicated platform for filling hourly positions. An online portal allows employers to easily keep track of applicants and their resumes, all in one place. The result is a powerful mobile solution that redefines finding good help.
You can find Job Loop on Apple's App Store and Google Play. For more information about the platform, visit http://www.thejobloop.com.
Job Loop was developed by Zco Corporation, one of the largest app developers in the world.
About Job Loop
Job Loop was founded with the intention of streamlining the hiring process. The company is dedicated to enabling employers to easily find qualified candidates, while making the job search easier for prospective employees. The result is a new approach to hiring.
About The Developer
Zco Corporation is one of the largest custom developers in the world. Founded in 1989 and headquartered in Nashua, New Hampshire, Zco has served Fortune 20 companies to small businesses for over 20 years. Its services include mobile and enterprise app development, 3D animation and games, augmented reality, and custom software. In addition to Zco's work for hire, it has an iOS and Android – based public safety product, PublicEye®. To learn more, visit http://www.zco.com.
####
If you are interested in more information about Job Loop, please contact Kyle Mallinger at kyle.mallinger(at)zco(dot)com.