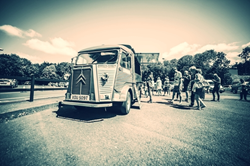 As always I am looking to invest in products I believe in and want to use myself.
Leeds, Yorkshire (PRWEB UK) 21 March 2017
A Yorkshire based street food business renowned for 'the best American burgers this side of the Atlantic' has received investment from funding guru Matt Haycox to power its growth.
Street food business Kerb Edge was launched 3 years ago and specialises in hand crafted burgers made from the best of Yorkshire produce.
It currently trades in 2 permanent locations, Camerons Brewery's Head of Steam Hull & Tynemouth, and from a distinctive vintage 1979 Citroen HY Van called Cyril. Their van can be found 'pitchin & flippin' daily around Hull & East Yorkshire and their gourmet burgers, which include the Signature KerbEdge burger, are extremely popular with locals and tourists alike.
Founded by Adam Bryson, a former general manager at Yo Sushi in Leeds, Kerb Edge started with just Adam behind the griddle and now employs 10 people.
Adam says: "We specialise in hand crafted burgers, made from the best of Yorkshire produce, including British beef and Yorkshire cheeses."
Adam, who has known Matt Haycox, a consultant for Access Commercial Finance, for several years, decided to approach the funding guru for investment to help buy out an existing shareholder and grow the business.
He secured £40k of immediate funding and access to more as the business grows. Adam says: "I needed a partner to help me move the business forward and take it to the next level. The future for KerbEdge will involve more than just beef especially given that Matt doesn't eat red meat - which means the team is now putting together chicken options!
We're looking to grow the business, and look to develop new sites for both Cyril our and potentially stand alone KerbEdge sites."
Matt Haycox says: "As always I am looking to invest in products I believe in and want to use myself. It is impossible not to notice how popular these burgers are with the customers. Adam is highly driven and full of great ideas to drive the business forwards, so it is a pleasure to work with someone who makes my job easy."
Adam Bryson adds: "To move the business forward it was time for me to get advice as well as funding and that's where I believe Matt can prove essential."
For more information visit http://www.matt-haycox.com