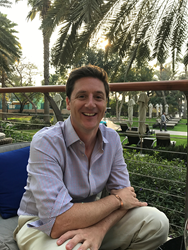 There is incredible potential for this product and I am very much looking forward to helping STAR EV in its journey.
Dubai, UAE (PRWEB) March 22, 2017
Charlie Simpson joins JH Global Services, Inc. with over 6 years experience in the region working most recently with Luxury Carts Arabia as Regional Sales Manager and previously with Hydroturf International as Sales Manager for 4 years, both based in Dubai. Charlie is a keen golfer and regularly plays competitively in MENA amateur events. He hails from St Andrews and is a member of the R&A. Simpson has been hired as the new Regional Business Development Manager for the MENA region. He will be starting the job on 20 March 2017.
"I have long admired the work of STAR EV in the US, and having worked for distributors in the region for 6 years I am delighted to be working directly with the manufacturer," says Simpson. "There is incredible potential out here for this product and I am very much looking forward to helping STAR EV in its journey."
Charlie will bring a wealth of experience to STAR EV and will work closely with Jane Zhang, CEO and Michael Alexander, VP of Sales and Marketing to increase and develop STAR EV's presence in the MENA region. It has been a great year for STAR EV in the region having already delivered a few hundred units at the Dubai Parks Resort, due to great sales and execution by MTM, STAR EV's UAE dealer.
"The STAR brand is being represented by a growing number of dealers worldwide," says Alexander, VP. "That creates the need and affords us the opportunity to attract industry professionals like Charlie to support our expanding network."
Jane Zhang, CEO: "I am pleased that Charlie has chosen to be part of the STAR team and I look forward to supporting him and our entire sales and services teams as they help our dealers grow."
To learn more about STAR EV in the region please visit http://www.starev.com.
Contact Information:
Charlie Simpson
charliesimpson(at)jhglobalinc.com
Mobile: +971 52 906 1884