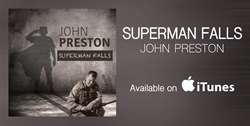 Preston said, "I was completely surprised by the outpouring of support that we received when the album first released. We were hoping for the best, but the successful top 40 placement was way beyond our expectations."
LOS ANGELES, CA (PRWEB) March 20, 2017
The Valkyrie Initiative and decorated war veteran, John Preston, have been working together to produce an album, with ten other artists, that allocates 100 percent of the proceeds to help veterans with PTSD. On March 17, 2017, the album released and it became an instant success. Preston said, "I was completely surprised by the outpouring of support that we received when the album first released. We were hoping for the best, but the successful top 40 placement was way beyond our expectations." The Valkyrie Initiative created the idea of the album over a year ago. When all the singers started jumping on board, the wheels were set in motion for the artists to rally the support of their fans for the CD. Preston said, "We have been working behind the scenes for months to garner support, but you never really know what is going to happen on the release date. This album is for a greater purpose than music. We have brothers, sisters, mothers, and fathers that have fought for our country who are taking their lives daily because of PTSD. Unfortunately, my brother is one of the fallen. I think that is why I have done so much work to make this album a success. It is a way for me to put my grief into action."
Preston has also had his life experience with PTSD after returning from Iraq. He struggled with alcohol and depression for 15 years before pulling himself out of it.
The partnership with the Valkyrie Initiative resonated with Preston because they are both passionate about helping veterans with Post Traumatic Stress by treating the mind, body, and soul. The proceeds from the CD will go to help fund programs for Veterans. The CD will feature nine artists and 12 tracks. Some of the other well-known artists include the Scooter Brown Band, Ryan Weaver, and Dee Rock.
Preston said, "We are taking our message to the public. The success of this album says everything…it says that we are here and we are loud. Our album is about our lives and the real battles we have and continue to fight both on and off the battlefield. We are here to show our community and the general public our talent, work ethic, and our drive to push forward through all adversity are the reasons we will beat PTSD and be successful in our lives." 
About the Valkyrie Initiative:
It is a non-profit dedicated to the to successfully facilitating the transition of Veterans, First Responders and their families using jobs and life skills training, animal therapy, systems education, and stress reduction for those who suffer from Post Traumatic Stress.
About Singer John Preston: 
John Preston is a Pacific Records recording artist and full-time firefighter. Preston was a Marine Corps field wireman from 2000 to 2004 achieving the rank of Sergeant in his four years of service and with Second Battalion Seventh Marines (2/7) served as a mission squad leader for 2/7 H&S running over 100 combat missions while in theater.
John began his music career while in Iraq writing his song "Good Good America" which became an overnight success and gave him his first shot at the music industry signing a record deal upon his return from Iraq. The song and video inspired by Iraqi school children was a national media topic and was viewed hundreds of thousands of times in 2004.
John returned to the music industry in 2014 signing with Pacific Records and quickly releasing his first single "this IS war" in October of 2014. The song also became a national media topic when the Marine veteran made a call to action to veterans across the nation to stand against ISIS which had just made a surge through Syria and Iraq. The music video had thousands of views and secured a second release with Pacific Records.
Later in 2014, Preston released his Los Angeles Music Awards nominated EP "Your War is Over." In 2015, he released in the Top 100 New Alternative Albums chart with his second EP "Day to Night." The album released on the one-year anniversary of the death of the Marine for whom he had written the song. John's video for Day to Night has had hundreds of thousands of views.
John's life took a turn of tragic irony when in January of 2016 his brother fell victim to post-traumatic stress and took his life. The passing of his brother was enough to make him consider ending his career but has instead fueled his passion.
To purchase and help support our veterans here:
https://geo.itunes.apple.com/us/album/battle-cry-songs-americas-heroes-valkyrie-initiative/id1204250344?app=itunes