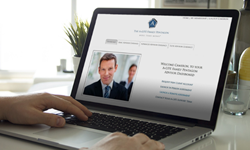 (PRWEB) March 21, 2017
As a company that is proud to offer financial planning tools for advisors, Aspida360 is excited to offer a 14-day no-cost trial to advisors who would like to learn more about the A+LIFE platform and how it can help them to better serve the needs of their high-net worth clientele. The A+LIFE platform can help advisors to both enhance relationships with their high-net worth clients, as well as to better help their high-net worth clients with family wealth planning that will lead to successful wealth transfers.
The A+LIFE platform 14-day no-cost trial will give advisors the chance to review the platform and the three different levels of membership available to offer both current clients, as well as prospective clients. You can sign up for the A+LIFE 14-day no-cost trial in three simple steps on our website, Aspida360.com. You can cancel at any time prior to the 14-day trial period ending.
The A+LIFE platform is a complete, digital system that operates through the MTM Vault where you can access and manage every facet of A+LIFE. The MTM Vault has an advisor dashboard which includes tools that will help you learn how you can implement our financial advisor software which aims to attract, retain, and grow high-net worth clientele for financial advisors. With our A+LIFE platform, as an advisor, you can get the tools you need to better serve your clients with their family wealth planning and to help your clients define, protect, share, integrate, and perpetuate family values that will lead to successful wealth transfers and the continuation of their family's legacy.
Financial advisors will be pleased to find that the A+LIFE platform is the first, and only one of it's kind, to offer strategic planning for high-net worth clients to realize a deeper awareness of family legacy and how they can perpetuate it in order to mitigate wealth transfer failure. With 91 percent of all wealth transfers failing, there has to be a better way for advisors to help high-net worth clients plan for and implement their family legacy in their estate planning. Using the A+LIFE platform gives advisors the opportunity to differentiate themselves from the standard products and services offered by financial advisors, and to instead offer services that show high-net worth clients that they are "more than money," and that their non-financial assets are worth preserving.
About Aspida360
Aspida360 is dedicated to helping financial advisors to better communicate with, and plan with, their high-net worth clients for successful wealth transfers in order to create multi-generational clients. Our team consists of a top one percent financial advisor, an attorney, and a group of marketing and IT experts. We work to research and develop solutions that will help advisors serve their high-net worth clients, and to reduce the high rate of wealth transfer failure by providing advisors with tools that help their high-net worth clients define, protect, and perpetuate their family legacy. Learn more at Aspida360.com.