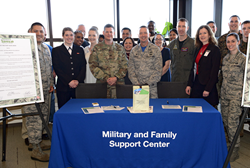 Suitland, Maryland (PRWEB) March 21, 2017
Andrews Federal Credit Union, a proud partner of the Military Saves Campaign, recently wrapped up Military Saves Week.
Military Saves Week is an annual opportunity for installations and organizations to promote good savings behavior, as well as a chance for service members and their families to assess their own saving status. Typically hundreds of organizations participate in the week, reaching millions of people.
This year, the Credit Union's Kaylee Abbott and Andrea Witter kicked things off by attending the Military Saves Week Proclamation Signing at the Military and Family Support Center on Joint Base McGuire-Dix-Lakehurst in New Jersey. Additionally, a no-cost financial seminar entitled "Steps to Financial Freedom," presented by Dusti Young, Partner Relations Specialist at GreenPath Financial Wellness, was held at the Credit Union's Headquarters in Maryland. The Credit Union also provided a free gift (while supplies lasted) to members that visited any Andrews Federal branch and opened a youth savings, holiday or vacation club account during Military Saves Week.
"We are grateful for the impact we made this week in giving our members the resources they need to make informed financial decisions," said Andrews Federal President & CEO, Jim Hayes. "We are always looking for ways to help both our military and civilian members achieve their savings goals."
About Andrews Federal Credit Union
Andrews Federal Credit Union was founded in 1948 to serve the needs of military and civilian personnel by providing a vast array of financial products and services. With over $1.4 billion in assets, Andrews Federal has grown to serve more than 120,000 members in the District of Columbia, Joint Base Andrews (MD), Springfield, Virginia (VA), Joint Base McGuire-Dix-Lakehurst (NJ), and military installations in central Germany, Belgium, and the Netherlands. In addition, the Credit Union serves as a financial partner with many select employee groups in Maryland, the District of Columbia, Virginia and New Jersey.
To learn more about Andrews Federal Credit Union and its community involvement, or to become a member, call 800.487.5500 or visit http://www.andrewsfcu.org.