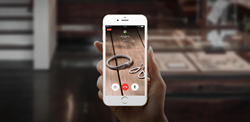 "Live shopping brings the expertise and excitement of the boutique to online customers. We're delighted that John Hardy is the first jewelry brand in the world to allow their customers to shop in this way
(PRWEB) March 21, 2017
Hero, the pioneering technology that is powering LIVE shopping for global retailers, has today announced a partnership with luxury jewelry brand John Hardy. The partnership will bring Hero's technology to John Hardy's boutiques throughout the USA.
Hero empowers retail associates in-boutique to shop with e-commerce customers for the first time, through a combination of live messaging, AI and video. By connecting the dots between the physical store and the digital business, John Hardy's in-store associates can extend their concierge service to online shoppers, boosting conversion rates by up to 10x.
Established in Bali in 1975, John Hardy is an artisan handcrafted luxury jewelry brand known for its timeless one-of-a-kind pieces with powerful design, dramatic detail, inspiring meanings. In 2014, John Hardy was acquired by private equity firm L Catterton. Headquartered in New York, John Hardy jewelry is available to discerning luxury consumers around the world via its global website, boutiques and retail partners.
Audrey Yu, Vice President of Global Digital, John Hardy said; "Hero has created something very special, at a time when retailers, especially in the luxury space, are needing to champion innovative ways to bring the brand experience and high touch service to where the clients are - online. When our teams started using Hero, we saw impressive and immediate results – a lift in conversion by 9.6% and an increase in average order value by 44%. We also gained valuable opportunities to interact with our clients in an authentic way digitally. This is an exciting step in our continuing ambition to offer the very best experience to our discerning clients."
Founder of Hero, Adam Levene, comments; "Live shopping brings the expertise and excitement of the boutique to online customers. We're delighted that John Hardy is the first jewelry brand in the world to allow their customers to shop in this way, facilitating an unrivaled shopping experience that is significantly growing sales and loyalty."