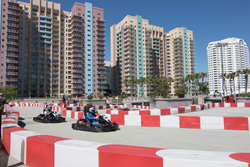 The Premiere Street Race in America Just Got Even Better
Irvine, CA (PRWEB) March 21, 2017
K1 Speed Inc. is the place to race at the 43rd annual Toyota Grand Prix of Long Beach. Located atop the Arena Parking across from the Family Fun Zone, the K1 Speed Karting Track brings the thrill of go-kart racing to race fans starting Friday, April 7, 2017. Known for indoor karting, the outdoor track will satiate your need for speed. Guests will have a chance to race their friends and family without leaving the streets of Long Beach. The outdoor karting track will give guests a taste of the K1 Speed experience offered nationally and internationally. Don't forget to visit the K1 Speed / K1 RaceGear booth in the Lifestyle Expo during race weekend. Race fans will have an opportunity to race the Toyota Grand Prix of Long Beach circuit on Xbox provided by Forza Motorsports. Guests will also have a chance to purchase special trade show gift cards and check out the latest safety gear from K1 RaceGer.
With 35 locations across the U.S. and Mexico, race fans from all over visiting Long Beach can find a K1 Speed nearby. Enthusiasts can visit the Torrance center just 20 minutes from the streets of Long Beach. Open 364 days a year and 7 days a week, visitors can hone their racing skills year-round.
For more information, visit http://www.k1speed.com.
About K1 Speed:
K1 Speed was founded in 2003 and is the nation's largest indoor kart racing chain. Each facility boasts 50,000-90,000 sq. ft. of space, which feature real road courses, meeting rooms, snack bars and spacious lobbies with genuine racing memorabilia. Visitors can take advantage of a variety of different race packages to race against their friends or the clock. K1 Speed can accommodate 10 to 800 guests and offers a unique venue for corporate functions, team building events, birthday parties, bachelor parties or other private ceremonies.