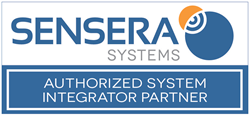 Golden, CO (PRWEB) March 21, 2017
Sensera Systems, the leading manufacturer of affordable solar/wireless/cloud remote monitoring systems has announced several new steps in bringing its technology to new markets and applications, including law enforcement, military and international markets.
Sensera Systems'® Authorized Systems Integrator Program makes its popular solar-powered, wireless site camera monitoring and surveillance solutions available through leading security integrators in the United States and now internationally. Participating integrators benefit from enhanced marketing support, training, special pricing, and technical support to offer Sensera Systems' complete line of jobsite and security products, featuring SiteWatch-PRO Series™ cameras and cloud service solutions, to their site security customers.
A key challenge in creating video surveillance systems for law enforcement is power consumption, portability, and compact/covert designs.  Sensera's patented low-power MultiSense platform makes significant advances in each of those areas, opening up new opportunities in a range of law enforcement applications.
Sensera Systems has appointed Obsidian Integration, LLC as a Reseller partner for law enforcement and federal agency markets. Sensera Systems' low-power/wireless solutions are ideally suited for portable/temporary surveillance applications in a wide range of local, state, and federal law enforcement applications. Obsidian Integration, LLC is an emerging leader in providing a wide range of video security systems and components for the law enforcement markets.  "We are excited to add the Sensera Systems products to our portfolio. They are a great compliment to our products and capabilities in cellular remote surveillance applications and will provide our agency and law enforcement customers a powerful set of tools to carry out important projects," commented Chris Anderson, President, Obsidian Integration.
Sensera Systems also announces its appointment of Studio 52 and Sharp Eagle Technologies as reseller partners in the Middle East.  Since 1977, Studio 52 has provided top quality video services across construction, oil & gas, and industrial security markets. "The combination of a robust construction market, the vast oil & gas industry in the area, provide great opportunities for Sensera Systems' solar/wireless camera and remote monitoring solutions. After researching the market carefully, we found Sensera's solutions to offer far greater value and unique capabilities over alternatives.  We are excited to be representing Sensera Systems in the Middle East," said Moiz Saeed, President of Studio 52.
Sensera Systems has also appointed USMILCOM, INC, in Santa Ana, California, as a reseller to the military/federal government markets. USMILCOM, Inc. has extensive experience providing support of U.S. Armed Forces Telecommunication/Low Voltage requirements, and is partnered with the Department of Defense (DoD) to define, nurture, promote and exploit C4I concepts and technologies to meet defense requirements.  Says Ray Sefrhans, CEO, USMILCOM, "We are excited to bring Sensera's unique solar/wireless/cloud solutions for remote surveillance and monitoring to the military and federal government communities.  Portability, and rapid installation are important for many DoD applications and Sensera's product and service portfolio brings powerful capabilities to bear. We are excited to be working with Sensera Systems."
"Our products and patented MultiSense platform have proven very successful in the U.S. construction markets the past couple years. It is exciting to now start bringing our products and technology into these new markets, applications, and geographies. Each of these partners brings unique capabilities and customer base and we are excited to be partnering with them." - David Gaw, CEO of Sensera Systems.
About Sensera Systems
Based in Golden, Colorado, Sensera Systems designs, manufactures, and markets products and solutions for integrated remote sensing and security in construction, security, industrial automation, oil & gas, agriculture, and law enforcement. Sensera Systems' patented MultiSense™ Platform and solar powered, wireless camera products are significantly simpler to use and more affordable than existing systems and have been recognized by the industry with multiple awards for innovation and impact. Sensera Systems' products achieve extreme ease of use, high functionality, and low cost by combining solar powered and wireless operation, and tightly integrated hardware and cloud-based monitoring.