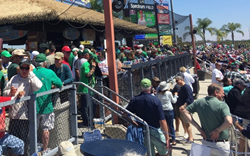 Tampa, Florida (PRWEB) March 23, 2017
As Major League Baseball's spring training season comes to a close, MaintenX International celebrated its employees and customers by inviting them to Spectrum Field, the Phillies' spring training location in Clearwater, Florida on March 17, St. Patrick's Day.
For the last 13 years, MaintenX has reserved the Diamond Dugout on select dates as a way to say thank you to its customers and employees.
"We love hosting events like this because it allows us to express the immense amounts of gratitude we have to those who support MaintenX," said Bill Schaphorst, VP - Business Development and the organizer of the sponsorship event. "But as someone of Irish descent, it certainly adds to the fun to be able to spend an afternoon at the ballpark with our friends on St. Patrick's Day."
Thirty MaintenX attendees enjoyed all you can eat ballpark food, complimentary programs and wait service at the event. A special guest of MaintenX threw out the first pitch and the Diamond Dugout's location, which is right next to the Phillies' dugout, made getting that wanted Phillies player's autograph guaranteed.
"Everyone on our team works really hard to do our absolute best for our customers," said Brett Herman, the Chief Financial Officer of MaintenX and a frequent attendee of the spring training events. "It's nice to get out of the office with our employees and customers to soak up the beautiful Florida sunshine and watch some baseball."
MaintenX offers fun opportunities to employees and clients several times a year at spring training games, Buccaneers games and other events.
For more information about MaintenX, visit http://www.maintenx.com.
ABOUT MAINTENX INTERNATIONAL:
MaintenX International is a fully licensed, general contracting company. As one of the largest national facility maintenance and repair companies in the U.S., MaintenX has created a wide network of knowledgeable and professional technicians that includes a national subcontractor network of over 45,000 members. For over 30 years, MaintenX has been expertly serving multi-location retail stores, restaurant chains and Fortune 500 companies nationwide.