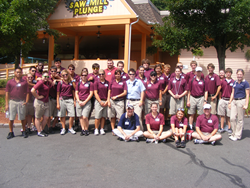 The Lake Compounce management team is very excited to open for our 170th season and is seeking individuals who would like to join the fun this Summer! - Sara Frias
Bristol, CT (PRWEB) March 20, 2017
Lake Compounce opens for its 170th season on May 6, 2017 and is currently seeking approximately 1,300 individuals to join their team for this summer season.
Positions that are available include Food & Beverage, Security, Games, Rides, Retail, Admissions, Maintenance, Grounds, Housekeeping, as well as at Bear Creek Campground. Applicants must be at least 16 years of age and available to work a variety of shifts including weekends May through August. Employees will be given special rewards and benefits during their employment at Lake Compounce.
All those interested are encouraged to apply on Lake Compounce's Employment page. http://www.lakecompounce.com/employment
About Lake Compounce
Lake Compounce is part of the Palace Entertainment family of parks. Palace Entertainment is one of the leading leisure park operators in the United States. With parks located in 10 states, Palace Entertainment continues its expansion of brands within the family entertainment sector. Palace Entertainment's parks provide family oriented and affordable attractions to visitors of all ages, offering a wide range of attractions, such as roller coasters, Ferris wheels, live shows, variable depth pools, water slides, animal shows, miniature golf courses and arcade games. Palace Entertainment greets millions of visitors annually.