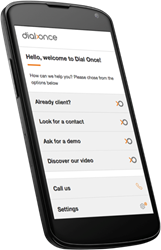 Our Intelligent contact platform is the solution to successfully digitize customer relationship.
San Francisco, California (PRWEB) March 22, 2017
Founded in 2015, Dial-Once has become a key player in customer relationship in less than two years. Its platform - the intelligent Contact hub - redirects mobile calls to a visual interface, enhancing customer experience, lowering call handling costs and promoting digital transformation.
Dial-Once Solution can be quickly deployed and easily connected to the client's existing telephone infrastructure and other digital services of the company (e.g. website, mobile application, IVR). Delivering quick results without complex IT developments allowed Dial-Once to become the partner of choice for many companies in various industries.
Dial-Once: Over-performed in 2016
With more than 30 customers in 2016 Dial-Once overachieved its goals set during the first fund raising of 2M, led by Ventech and BGV.
"More than the number," says Charles Dunston, co-founder and CEO of Dial-Once, "It is the variety of industries we serve that validates our solution. Among our customers, I can mention banks such as Credit Agricole or Insurance companies such as Verspieren. Challenges and call volumes are very diverse, and our Intelligent contact platform is the solution to successfully digitize customer relationship."
A strong value proposition
With its Intelligent communication platform, Dial-Once is reinventing customer care by digitalizing inbound customer care calls. No more "Press 1, Press 2, etc.." dreadful experience, the call is immediately redirected to a visual interface where the user can navigate through the company's selfcare content to find his answer, or switch to another existing communication channel such as a chat, or talk with the person with the right skillset to address his request. The Customer experience is greatly enhanced.
"Our customers see Dial-Once value almost immediately, but we had to convince key providers of customer care solutions to consider us as partners rather than competitors," states Charles Dunston. "Today the situation is completely different, Solutions Vendors see us as true partners. This is the case for Genesys or Atos Wordline, for instance."
Perspectives 2017: 2-digit growth and internationalization
Starting with the launch of a completely revamped website, Dial-Once's goal is to make 2017 the year of confirmation and internationalization.
Extremely active in this fast growing market, Dial-One has an ambitious outlook for 2017. "Our goal is to double, even triple our customer number by the end of the year," explained Charles Dunston. "The French market remains at the heart of our growth strategy as it still has a big potential, and we also want to develop internationally to sustain future growth. Our goal is to achieve 25% of international customers in our portfolio by the end of 2017," concludes the co-founder of Dial-Once.
After its first fund raising of 2M early 2016 led by Ventech and BGV, a new fund raising is planned for 2017 to support Dial-Once's development.
About Dial-Once:
Dial-Once digitizes phone calls and redirects them to your company's digital services and content, through an Intelligent Contact Hub. Instead of a traditional IVR ("Press 1, Press 2, etc…") often leading to customer frustration, the Dial-Once solution redirects incoming calls to a Visual Interface leveraging existing digital content from your company. This results in a far better experience for your customers, promoting your current Digital initiatives while significantly reducing call handling costs.
Dial-Once solution is deployed in every industry (Bank, Insurance, Utilities….).