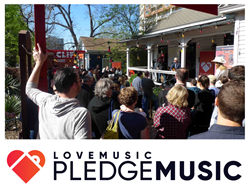 "Our goal at SXSW was to bring the fan experience to the industry. We couldn't be happier with the outcome. It truly reminded us of what it means to be a fan of great music." - PledgeMusic CEO Dominic Pandiscia
(PRWEB) March 20, 2017
PledgeMusic has just concluded a successful standing room only residency in Austin, filled with intimate acoustic performances by Matthew Caws (Nada Surf), Garland Jeffreys, and Nicole Atkins, among many others, that authentically recreated its unique direct-to-fan experience for SXSW attendees.
The New York-based digital marketplace designed an authentic, intimate environment at The Blackheart on Rainey Street that delivered on the company's mission to bring innovative artists and passionate fans closer together than anywhere else. Kicking off each morning with tacos, coffee and tunes on the Pledge Porch, the immersive musical experiences continued with the company's CLIF Bar Bash and FryeDays day parties, allowing attendees to revel in being true fans for the day.
"Our goal at SXSW was to bring the fan experience to the industry by presenting a wide range of intimate acoustic performances on our Pledge Porch and have the most compelling, authentic artists play our day parties," said PledgeMusic CEO Dominic Pandiscia. "We couldn't be happier with the outcome, as the constant refrain we heard was that all gathered felt truly reminded of what it means to be a fan of great music and were excited to have a chance to closely interact with some of their favorite artists."
Beginning Wednesday morning. and continuing throughout the week, the Pledge Porch was at capacity with fans waiting to get into performances that also featured The Weeks and SSHH with Zak Starkey. Tuesday and Wednesday afternoons featured the CLIF Bar Bash presented by Clif Bar & Company, with performances by Temples, The Secret Sisters, Ben Sollee and more, while Thursday and Friday afternoons were filled with FryeDays presented by The Frye Company, with appearances by Hurray for the Riff Raff, Cory Branan, Sara Watkins, and Chicano Batman, among others.
As part of the experience, attendees were treated to free breakfast, unique gift bags and guitar giveaways. PledgeMusic also partnered with other SXSW events, offering "drinks on us" bar tab laminates at key showcases.