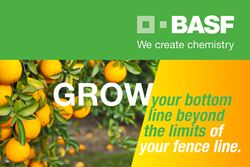 Jupiter, FL (PRWEB) March 21, 2017
DMG Productions is proud to announce that it will feature BASF Crop Protection (BASF) in an upcoming episode of the highly acclaimed television series American Farmer airing in the second quarter of 2017 on RFD-TV. American Farmer airs Tuesdays at 8:30 a.m. EDT on RFD-TV. Check your local listings for more info.
Agriculture plays a fundamental role in fulfilling many of humanity's basic needs: food, feed, energy and more. BASF is dedicated to discovering and developing new technologies that help farmers fulfill these needs. In this segment, viewers will learn how BASF is helping farmers tackle herbicide resistant weeds through new technology and training.
"BASF is committed to not only supporting farmers by developing new agricultural products and technology, we also want to ensure farmers and applicators receive the best stewardship support possible," said Neil Bentley, BASF Marketing Director, US Crop. "More than 13,000 people in 31 states across the U.S. have attended a BASF On Target Application Academy training since 2012, and we couldn't be happier to bring an inside look at the training to the American Farmer series."
Through research and innovation, BASF supports its customers in meeting the current and future needs of society. These contributions can be summed up in its corporate purpose: creating chemistry for a sustainable future.
"BASF combines economic success with environmental protection and social responsibility," said Robert Sikich, Senior Producer for American Farmer. "This is sure to be an interesting and enlightening episode."
About BASF's Crop Protection division:
With sales of more than €5.4 billion in 2014, BASF's Crop Protection division provides innovative solutions in crop protection, seed treatment and biological control as well as innovations to manage nutrients and plant stress. Its portfolio also includes products for turf and ornamental plants, pest control and public health. BASF Crop Protection is a leading innovator that partners with growers to protect and enhance crop yields, enabling them to produce high quality food more efficiently. By delivering new technologies and know-how, BASF Crop Protection supports growers to make a better life for themselves, their families and communities. Further information can be found at http://www.agro.basf.com or on social media.
About BASF:
BASF Corporation, headquartered in Florham Park, New Jersey, is the North American affiliate of BASF SE, Ludwigshafen, Germany. BASF has more than 17,000 employees in North America, and had sales of $20.6 billion in 2014. For more information about BASF's North American operations, visit http://www.basf.us.
BASF, creates chemistry – and has been doing so for 150 years. Its portfolio ranges from chemicals, plastics, performance products and crop protection products to oil and gas. As the world's leading chemical company, BASF combines economic success with environmental protection and social responsibility. Through science and innovation, it enables customers in nearly every industry to meet the current and future needs of society. BASF products and solutions contribute to conserving resources, ensuring nutrition and improving quality of life. Further information on BASF is available on the Internet at http://www.basf.com.
©2017 BASF Corporation. All Rights Reserved.
About American Farmer:
American Farmer is a breakthrough program on a mission to showcase the latest advancements in agriculture and farming. From seed to harvest, livestock and more, our producers have traveled the country covering the people, places and issues impacting all areas of farm country.
American Farmer airs Tuesdays at 8:30 a.m. ET on RFD-TV. Check your local listing for show times.
For more information, visit http:// http://www.AmericanFarmerTV.com or contact Robert Sikich at (866) 496-4065 or via email at: Robert(at)AmericanFarmerTV.com.