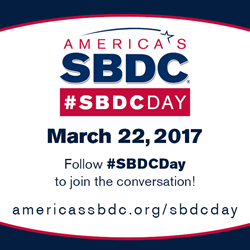 PHILADELPHIA, Pa. (PRWEB) March 22, 2017
Today, the Pennsylvania Small Business Development Centers (SBDC) have released the results of their services to small business owners and aspiring entrepreneurs in 2016 as part of National SBDC Day.
In 2016, the Pennsylvania SBDC network helped small businesses obtain $182,198,317 in new investment for their companies and grow sales more than $221,000,000 ($184,661,378 in domestic sales and $37,088,093 in international sales).
The number of small businesses who received no-fee, confidential business management advice from the SBDC's professional staff totaled 7,150 individuals, resulting in 91,020 hours of business consulting delivered by 18 SBDCs statewide. The number of business education programs held by the Pennsylvania SBDC in 2016 totaled 698, attracting 9,520 attendees.
In total, the Pennsylvania SBDC network helped 705 Pennsylvanians start or purchase a business in 2016. This resulted in the SBDCs contributing to the saving and creation of 6,628 jobs across the Commonwealth last year.
Since 1980, the Pennsylvania SBDC has provided valuable services to aspiring entrepreneurs and small business owners. Today, on SBDC Day, SBDCs across Pennsylvania will hold educational programs and other events to showcase the expertise available to the Commonwealth's business owners. For a full listing of Pennsylvania SBDC events and programs, visit: http://pasbdc.org/events.
To follow SBDC Day happenings on social media, follow the hashtag #SBDCDay and @PASmallBusiness on Twitter.
About Pennsylvania Small Business Development Centers (SBDC)
The Pennsylvania SBDC network is the only statewide, nationally accredited program that provides high quality one-on-one consulting, training and information resources to empower new and existing businesses. SBDC consultants work with entrepreneurs in confidential, individualized sessions to help them with a range of business issues including testing a new business proposition, shaping a business plan, investigating funding opportunities, and much more. The SBDC program is a public/private partnership with the U.S. Small Business Administration, the Pennsylvania Department of Community and Economic Development and 18 universities and colleges across the Commonwealth. For more information on the Pennsylvania SBDC services and impact, please visit http://www.pasbdc.org.