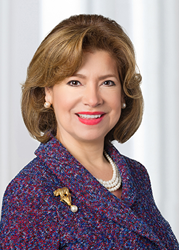 (PRWEB) March 21, 2017
Maria Contreras-Sweet, the 24th administrator of the United States Small Business Administration (SBA), will deliver the address at the University of La Verne's 2017 spring commencement ceremonies on Saturday, May 27.
She will also receive an honorary degree during the ceremonies, which will take place at Citizens Business Bank Arena in Ontario, California.
Contreras-Sweet, who sees entrepreneurship as a force that can change lives and lift communities, was appointed by former President Barack Obama to lead the SBA in 2014. She held the position and served on the president's cabinet until the end of his term in January, 2017.
The SBA is charged with supporting America's 28 million small businesses, which create a majority of U.S. jobs and employ half of the country's private-sector workforce. As head of the agency, Contreras-Sweet oversaw a $120 billion loan portfolio as well as the world's largest seed fund and business counseling network.
Contreras-Sweet is also a business leader, entrepreneur, and former California state cabinet official.
She launched three businesses of her own, including a community bank in downtown Los Angeles.
Prior to that, she served as the California cabinet secretary of the Business, Transportation and Housing Agency, where she oversaw 44,000 employees, a $14 billion budget, and 14 state departments, including the departments of Transportation, Highway Patrol, Housing, Financial Institutions, Corporations, Real Estate, and Motor Vehicles.
Contreras-Sweet is also a founding director of the California Endowment, a $3 billion foundation dedicated to improving the health status of Californians.
Commencement for the College of Arts and Sciences and the LaFetra College of Education will begin at 10 a.m.
The ceremony for the College of Business and Public Management begins at 3:30 p.m.
Citizens Business Bank Arena is at 4000 Ontario Center Parkway in Ontario.
About the University of La Verne
Founded in 1891 and located 35 miles east of Los Angeles, the University of La Verne is a private, nonprofit, comprehensive institution founded on four core values: lifelong learning, ethical reasoning, civic and community engagement, and diversity and inclusivity. The University of La Verne serves nearly 8,400 students on the historic La Verne location as well as across 10 Southern California regional campuses.