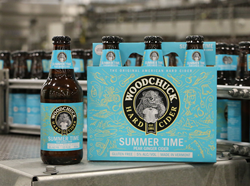 Middlebury, VT (PRWEB) March 21, 2017
Woodchuck® Hard Cider announces the release of Summer Time, a seasonal pear ginger cider that refreshes like a cool jump in your favorite swimming hole. Summer is right around the corner with warm, carefree days and fun, festive nights, perfect for a refreshing Woodchuck cider.
Summer Time infuses both pear juice and fresh ginger into the cidery's small batch hard cider. The second Woodchuck seasonal offering to feature the new Woodchuck branding, Summer Time will be available in March following up on the success of Woodchuck Winter Chill.
"This semi-sweet pear ginger cider is the perfect complement to summer," said Bridget Blacklock, Director of Marketing. "Early sampling efforts have yielded nothing but positive feedback and enthusiasm behind the direction we're taking with our innovation."
Available nationally beginning in March, Summer Time (5% ABV) will retail for $8.99 / 12oz 6 pack. It will also be available in 5.2 gallon kegs. Enjoy the brand that started the American cider revolution.
About Vermont Cider Co.
Vermont Cider Co. introduced the U.S. to the craft cider category 26 years ago. Dedicated exclusively to cider making, they are the proud producers of their namesake Vermont Cider Co.™ brand, the original American hard cider, Woodchuck®, the circus of ciders, Gumption®, the west coast native, Wyder's® Cider, and importers of Magners® Irish Cider and Blackthorn®. With an unparalleled focus on quality and innovation, Vermont Cider Co. leads the category in releasing the most premium liquid and pioneering new ciders made from the finest ingredients. Under the watchful eyes of two award-winning cider makers, Vermont Cider Co. produces and distributes from Middlebury, VT, blending together the passion of their consumers, their creativity, and their heritage within the green mountains.
###