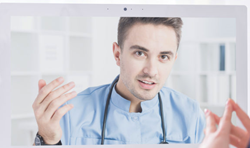 Online Doctor Visit is finally taking the stress and bustle out of routine doctor visits!
FT. WORTH, TX (PRWEB) March 20, 2017
The topic of healthcare in America has become one of the most complex and debated issues in recent history. The bottom line for too many Americans is that they are still left without the health insurance coverage they need in order to access proper medical care that is within their budget. US physicians say that an unfortunate side-effect of this scenario is that hospital emergency rooms and urgent care type facilities have become flooded with patients who need care but who don't have health insurance.
Not only has this led to overworked medical staff at emergency care locations, but it also has had the undesirable effect of a lower quality of care for all patients. Providers with a long waiting list have less time to devote to individual patients, and not just those who are uninsured. Emergency rooms are now brimming with patients who do not have life threatening illnesses or injuries, but who do not know where else to turn.
Knowing that the landscape of US healthcare must change for progress to be made relating to overburdened emergency locations, Online Doctor Visit saw an opportunity to revolutionize the method in which Americans consult with their doctors. With the use of technology that exists in nearly every US household, a completely new concept of care has evolved: telemedicine.
Through the use of online video chat using a smart phone, tablet or computer, Online Doctor Visit's progressive telemedicine program offers people with or without health insurance a very affordable way to seek medical attention with a licensed doctor. The typical medical chat takes a lot less time than an in-person medical examination, therefore freeing up emergency medical professionals and thus unburdening emergency rooms and urgent care facilities.
About: Online Doctor Visit™ is a service that offers telemedicine and online doctor consultations for a monthly membership fee. Patients with non-emergent medical conditions can speak to a certified, licensed physician without wasting another minute in a crowded waiting room.