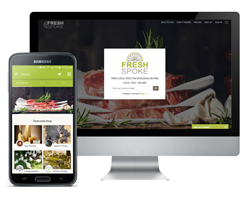 We're building a shared delivery system on a commercial scale starting with our own food producers so they can make extra cash delivering for producers who don't
Barrie, Ontario (PRWEB) March 21, 2017
Ontario start-up FreshSpoke is tackling the distribution challenges that, until now have kept most farmers and micro-producers out of the wholesale market. "Consumers are demanding more local and sustainable sourcing on the part of institutions, retailers and food service," states Marcia Woods, CEO and passionate force behind FreshSpoke, "but the existing food system doesn't make it easy or economical to buy or sell on a commercial scale."
FreshSpoke is tackling this problem with an app that handles the order, payment and delivery for the producer and gives food service and retailer buyers a direct pipeline to fresh, local food, delivered to their door. "We're building a shared delivery system on a commercial scale starting with our own food producers so they can make extra cash delivering for producers who don't," explains Ms. Woods. By the summer of this year, FreshSpoke expects to have third party commercial drivers on board to keep up with the pace of demand as it expands across the province.
FreshSpoke is the latest in a growing list of peer to peer platforms referred to as the sharing economy, an economic movement that has experienced rapid growth over the past 5 years. "To get fresh, local food onto menus, chefs had to spend precious time or be willing to pay a premium to distributors," states Mia Andrews, President of the Canadian Personal Chef Association. "Now with FreshSpoke they can easily buy directly from the producer and get orders delivered at a fair price."
FreshSpoke's sellers range from breweries, wineries and artisanal food makers to farmers and growers like garlic farmer, Bulbs of Fire of Mildland, Ontario. "Small farmers like myself know there's a wholesale market for our product but finding those buyers and figuring out delivery on top of everything else we do in a day is impossible," according to Midland area Garlic grower Bart Nagel of Bulbs of Fire. "FreshSpoke is the first solution I have seen that offers a way to reach the market directly and get my orders where they need to go for a fair price."
FreshSpoke's web and mobile applications give wholesale buyers in food service and retail businesses free access to a growing inventory of locally produced products from over 100 producers across the greater golden horseshoe region. The fees for local food producers range from free to $900 per year.
To find out more about FreshSpoke or register for an information session visit their web site at http://www.freshspoke.com.