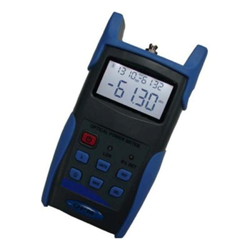 Our 20 years of invaluable experience provides us an unparalleled understanding of the industry and the ecosystem
TORONTO, CANADA (PRWEB) March 21, 2017
GAOTek's handheld Passive Optical Network (PON) power meter (Product ID C0260007tek) is a dynamic device suitable for APON, BPON, EPON and GPON network measurements. The power meter is specially designed for the construction and maintenance of passive optical networks between Optical Line Terminal (OLT) and Optical Network Terminal
(ONT).
This handheld device is an integral part of a holistic suite of fiber products offered by the company. It allows simultaneous measurement of all three wavelengths on the fiber – 1490 nm, 1550 nm and 1310 nm. A wide measurement range, of up to 25 dBm for 1550 nm calibrated wavelength makes it ideal for power measurements in CATV systems. The device enables quick testing of all PON signals along the network and performs simultaneous measurement and display of PON signals including voice, data and video optical signal.
In addition to meeting industry standard technical specifications such as a power uncertainty of ≤0.5 dB and an insertion loss of <1.5 dB, the device comes with important features like 10 groups of configurable threshold values for flexible selection, and a large memory that can save up to 1000 test results. It also offers an optional visible fault locator (VFL), for easily identifying and locating faults.
Its other features include an upgradable embedded software, auto power-saving design, up to 15 hours of continuous operation with rechargeable battery, and real-time battery power indication. GAOTek's fiber optic products are known for being portable, compact, affordable and yet of high quality. This power meter too boast all the above features in a small, lightweight and robust body.
"Our 20 years of invaluable experience provides us an unparalleled understanding of the industry and the ecosystem. This is clearly visible in all our products designed especially for ease of use by the end user. This handheld power meter is no different. It is powered by our state of the art technology, offers world class features and is extremely easy to use in the field," said Dr. Frank Gao, CEO, GAO Group which includes GAO RFID Inc.
The product is available on http://www.GAOTek.com, as well as some leading e-commerce marketplaces.
GAOTek Inc. now offers one of the world's largest selections of advanced fiber optics instruments, fiber optic transceivers, telecommunication testers, electronic measurement instruments, video surveillance, general test and measurement equipment, civil engineering, mechanical engineering, chemical engineering and other engineering products that satisfy the needs of global technical professionals.
GAOTek serves customers from more than 50 countries. GAOTek is known for the high quality and the good value of its products. Its strong technical support team provides excellent support for its products.
GAOTek Inc. is a member of GAO Group of Companies, headquartered in Toronto, Canada with a strong global presence.