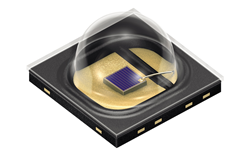 Sunnyvale, CA (PRWEB) March 21, 2017
Osram Opto Semiconductors is expanding its family of high-power infrared Oslon LEDs for illumination solutions to include a new wavelength, 810 nm. The new SFH 4703AS infrared emitter will improve the performance of inspection and scanning camera systems, such as those used to read license plates. The additional wavelength enhances image contrast, making it easier to read patterns from recorded images at any time of day. Moreover, camera sensors have higher sensitivity at 810 nm, thereby extending the visibility range of a traditional 850 nm camera system at the same LED output.
Greater image contrast for easier analysis
The newly available wavelength is particularly advantageous for applications requiring superior image contrast. Osram developed the new SFH 4703AS to address shortcomings of camera systems using wavelengths of 850 nm and 940 nm, which typically have difficulty creating high-contrast images of certain color combinations.
An ideal application for the new technology is in camera systems supporting automatic license plate recognition at toll stations or entrances to parking garages. The SFH 4703AS gives these cameras higher-contrast images of many types of license plates, making it easier to retrieve the license plate numbers. As a result, automated barriers function more smoothly, reducing waiting times for drivers. Other camera applications that stand to benefit from the technology upgrade include traffic monitoring and closed-circuit television (CCTV) systems.
Increased range – same optical output
This new wavelength comes with the added bonus that the spectral sensitivity of typical camera sensors is higher at 810 nm than it is at 850 and 940 nm. Using a light source with the same optical output, an 810 nm system will achieve a greater detection distance than was previously possible. Alternatively, this also allows designers to reduce the number of components if they wish to maintain the same viewing range. However, designers should bear in mind that humans do perceive infrared light as a mild red glow, and this is stronger at 810 nm than at 850 nm.
High optical performance – proven package
Osram Opto Semiconductors has been providing 810 nm emitters for iris scanners in mobile devices. For the SFH 4703AS, developers mounted the highly efficient, nanostack-manufactured chip in the tried-and-tested Oslon package for illumination applications. At 1 amp current, the emitter generates 1 watt of optical power. The beam angle of +-45° allows for broad illumination, with a resulting radiant intensity of 630 milliwatts per steradian (mW/sr) at 1A. The component measures 3.85 by 3.85 mm, and is 2.29 mm high including the lens.
With this new device, designers can now choose from mutually compatible emitters in three different wavelengths. These can be combined within a single illumination unit or used to convert existing systems to another spectral range without the need for layout changes.
Press Contact:
Sue Kim
Tel. 408-962-3718
Email sue.kim(at)osram-os.com
Technical Information:
Tel. 866-993-5211
Email: support(at)osram-os.com
Sales contact: http://www.osram-os.com/sales-contacts
ABOUT OSRAM
OSRAM, based in Munich, is a globally leading lighting manufacturer with a history dating back about 100 years. The product portfolio includes high-tech applications based on semiconductor technology such as infrared or laser lighting. The products are used in highly diverse applications ranging from virtual reality, autonomous driving or mobile phones to smart and connected lighting solutions in buildings and cities. In automotive lighting, the company is the global market and technology leader. Based on continuing operations (excluding Ledvance), OSRAM had around 24,600 employees worldwide at the end of fiscal 2016 (September 30) and generated revenue of almost €3.8 billion in that fiscal year. The company is listed on the stock exchanges in Frankfurt and Munich (ISIN: DE000LED4000; WKN: LED400; trading symbol: OSR). Additional information can be found at http://www.osram.com.