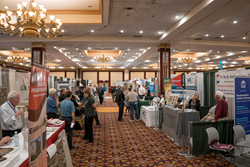 Every year, the Tunica Show brings together the industry's best and brightest in the region, and we look forward to demonstrating how the manufactured home retailers and communities in attendance can utilize MHVillage to grow their business
Tunica, MS (PRWEB) March 22, 2017
MHVillage, the nation's number one website for buying, selling, and renting mobile and manufactured homes, has announced that it will be exhibiting at the 2017 Tunica Show for Manufactured Housing from March 29-31, 2017, in Tunica, Mississippi.
As the nation's largest outdoor manufactured housing show, the 2017 Tunica Show will feature 70 homes on display from 16 prominent manufacturers. Exhibits by over 90 suppliers will represent every facet of the manufactured housing industry, from manufactured home transport and installation, to building materials, financing and professional services.
"We're excited to once again be a part of this important event for manufactured housing professionals," said Darren Krolewski, Executive Vice President, Marketing and Business Development. "Every year, the Tunica Show brings together the industry's best and brightest in the region, and we look forward to demonstrating how the manufactured home retailers and communities in attendance can utilize MHVillage to grow their business."
Founded in 2004, MHVillage.com is the largest and most active online marketplace for manufactured housing, with listings for over 28,000 homes, 37,000 communities and 2,900 retailers nationwide. More than 20 million consumers begin their home search with MHVillage annually, resulting in sales transactions in excess of $2.5 billion.
With a footprint covering every manufactured housing market, MHVillage will be showcasing their robust lead generation platform, unparalleled traffic generation capabilities, and custom-tailored advertising solutions. MHVillage is uniquely capable of helping manufactured housing industry professionals gain more business online: community owners and managers, retailers, lenders and builder/developers all utilize MHVillage.com to great effect.
Among the advertising products and services MHVillage will be exhibiting at the 2017 Tunica Show is a marketing program for retailers of Champion Home Builders, a leading producer of modular and manufactured homes, that enables visitors to MHVillage.com to search over 600 new home models from the Champion family of brands and immediately connect with authorized Champion retailers and manufactured home communities where those homes are available for purchase or rental.
"There has been tremendous interest on our website for new homes," commented Krolewski. "Through our relationship with Champion, we have the unique ability to match Champion's innovative home designs with the retailer and community inventory already listed on MHVillage so that the consumer can easily locate and view the models that interest them."
The 2017 Tunica Show also marks the first time MHVillage has sponsored the Tunica Show website, lending its online marketing expertise to the successful promotion of the event to manufactured housing professionals nationwide.
Located at the Hollywood and Resorts Casinos in Tunica, Mississippi, the 2017 Tunica Show begins Wednesday, March 29 and continues through Friday, March 31, with an afternoon of pre-show educational seminars on Tuesday, March 28. As an industry trade event, the 2017 Tunica Show is not open to the public.
About MHVillage
Based in Grand Rapids, Michigan, MHVillage Inc. is the nation's premier online marketplace of manufactured homes for sale and rent. Since its inception in 2004, MHVillage has grown to become the number one consumer website for the manufactured housing industry with more than 20 million unique visitors annually. In 2016, over 78,000 homes were sold on MHVillage with a combined transaction value exceeding $2.5 billion.
About the Tunica Show
Sponsored by the South Central Manufactured Housing Institute, a non-profit trade-association dedicated to the promotion and advancement of the manufactured housing industry in Mississippi and Alabama, the Tunica Show brings together the latest manufactured home designs, the best in suppliers' offerings and latest in systems-built technology for over 1,900 industry professionals representing in excess of 500 companies.
Media Contacts:
Darren Krolewski
Executive Vice President, Marketing and Business Development
MHVillage
800-397-2158
Dennis Hill
Show Coordinator
Show Ways Unlimited
770-587-3350