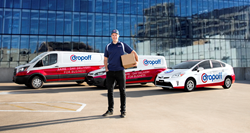 Since switching to Dropoff, we've happily discovered they're more than just a same-day delivery solution. Now we can get our customers their orders quickly and have trusted professional Agents representing our brand.
Las Vegas, NV (PRWEB) March 21, 2017
Retailers have increasingly looked to the sharing economy for the promise of speed to meet customer expectations and solve their last-mile delivery challenges. That need for speed has meant many retailers are sacrificing reliability and professionalism. New data from a national survey by delivery industry leader, Dropoff, shows that 37% of consumers have lost trust in peer-to-peer delivery services and are not getting the service they deserve with current couriers and delivery services. 70% of those surveyed have had their deliveries arrive late and 42% have experienced a damaged delivery. Most notable 72%, up from 52% in 2016, want a more professional delivery person. Also, a majority of respondents said if a retailer's delivery person was unprofessional they would not shop with that merchant again.
Additional findings include:

Same-day delivery is changing the future of shopping habits. After receiving same-day delivery, 89% of respondents said they were more likely to purchase from that retailer again.
Fast delivery is important for the majority of consumers. 98% of Millennials and 96% of Gen Xers consider quick delivery important when buying online.
43%, up from 40% in 2016, said that how fast a merchant can deliver is more important than that merchant's brand reputation when it comes to online shopping decisions.
Retailers should expect delivery partners to act as extensions of their business and reflect their values from customer purchase all the way through delivery. Dropoff has taken an innovative approach to same-day delivery with professional, trusted delivery Agents, 24/7 customer support and technology-backed last-mile solutions both retailers and customers can rely on.
"Our customers rely on us to be there for the moments that matter and we needed a logistics partner we could count on. We first turned to peer-to-peer services for our deliveries, but were unhappy with the level of service and how our customers were treated," said Susan Sarich, founder of Susie Cakes. "Since switching to Dropoff, we've happily discovered they're more than just a same-day delivery solution. Now we can get our customers their orders quickly, have trusted professional Agents representing our brand, and have been able to expand our business to boot."
Today Dropoff is releasing a first-of-its-kind product, Dropoff Tracker, to make managing same-day delivery for enterprise clients more transparent and easy. Designed as a standalone web app, clients can now view and track all their same-day deliveries and the delivery Agents assigned to them simultaneously across multiple locations. Viewable at the corporate headquarter, regional or store-specific level and with multiple permission tiers, Dropoff Tracker gives clients real-time visibility into the status of every shipment.
Eliminating the need to track deliveries individually, Dropoff Tracker gives clients access to all their Dropoff deliveries, with all of the information available in one centralized and dynamic map. Account settings allow clients to clearly identify where their delivery volume is coming from on a given day - in store, online, from one city, region or across the entire country. Dropoff Tracker is now available as a downloadable web application for Windows PC and Mac.
"Nearly 90% of our clients say they chose Dropoff because of our professionalism, and now with Dropoff Tracker they get an even clearer understanding of how same-day delivery fits into their larger operational picture," said Sean Spector, CEO of Dropoff. "Our Enterprise clients are thrilled they can view and live-map track all of their crucial shipments from a single screen."
Dropoff works with leading brands across many industries relying on last mile delivery to get items into the hands of their customers quickly and professionally, including Whole Foods, Susie Cakes, Neiman Marcus, Zazzle, JW Marriott, and Keller Williams.
About Dropoff:
Dropoff has become the first national brand to modernize the standards of same-day delivery by offering businesses a superior experience built on convenience, reliability and unmatched customer service. Through innovative technology and trusted, professional delivery Agents, Dropoff seamlessly becomes an extension of any business and a true logistics partner. From real-time tracking and confirmations, transparent pricing, flexible delivery options, and feature-rich APIs, Dropoff offers businesses the same-day delivery solutions they need to satisfy customers and achieve their goals. For more information about Dropoff, visit https://www.dropoff.com.
Survey Methodology:
505 US adults were surveyed in March 2017 and 500 in March 2016 and were asked a series of questions about their online shopping and delivery habits. The survey was completed by SurveyGizmo, a leader in quantitative research.