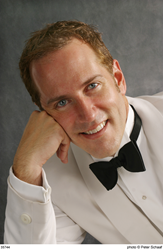 Richard Dowling's mastery of the Joplin rags invokes a tenderness that charms us and a technical command that inspires our admiration. –– Max Morath, veteran ragtime pianist, composer, actor and author
New York, NY (PRWEB) March 23, 2017
New York pianist, Steinway Artist and Piatigorsky Foundation artist Richard Dowling is to perform an unprecedented two-concert cycle of the complete piano works of American composer Scott Joplin in Weill Recital Hall at Carnegie Hall on Saturday afternoon and evening, April 1, 2017, exactly one hundred years to the day Joplin died in New York.
Mr. Dowling is the first pianist in history to perform the complete cycle of Joplin's piano works in public.
Dowling will offer a variety of Joplin's 53 rags, waltzes, marches and cakewalks on each of his two programs: 27 works on the Part 1 recital at 2:00 PM followed by 26 works and a special Joplin encore on the Part 2 recital at 7:00 PM. The concerts are part of a two year-long celebration of the life and works of Scott Joplin (1868-1917), known as the "King of Ragtime Writers" with Dowling touring his music throughout the United States. 2018 also marks the sesquicentennial (150th) anniversary of Joplin's birth. For more info, please visit http://www.richard-dowling.com/joplin.
Dowling's tour encompasses over 60 recitals nationwide, including the San Francisco Bay Area, New Orleans, Houston, Austin, New York, Cape Cod, the Scott Joplin Festival and the Newport Music Festival. On April 1, 2017, Rivermont Records will release Dowling's 3-CD set of the complete solo piano works of Joplin recorded on a magnificent Hamburg Steinway concert grand piano. WFMT in Chicago and WWNO in New Orleans have both recently conducted radio interviews with Dowling about his Joplin project.
Richard Dowling earned degrees from Yale University and the University of Texas at Austin, including a doctorate in music. Among his teachers was the renowned concert pianist Abbey Simon. The New York Times has described Dowling as "an especially impressive, fine pianist."
He made his orchestral debut at age eighteen, performing Beethoven's Piano Concerto No. 3 with the Fort Worth Chamber Orchestra. A New Yorker since 1990, Dowling has often performed at venues throughout the city including Lincoln Center, Carnegie Hall, 92nd St. Y, The Rainbow Room at Rockefeller Center, the Brooklyn Conservatory, and The Metropolitan Museum among others.
Dowling has performed for over two decades the works of Chopin, Ravel, Beethoven, and Gershwin, and has published critical performing sheet music editions of the works of Ravel, Fauré, Debussy, Mendelssohn, Gershwin, Hummel, and Zez Confrey.
Dowling has a special affinity for French music, art and culture. He studied at the Conservatoire in Nice, received the Grand Prix from the French Piano Institute, and made his formal recital debut in Paris at the Salle Cortot. In recognition of his dedication to French musical art, Mr. Dowling was inducted as a Chevalier of the renowned Company of Musketeers of Armagnac (an honor society founded in the 17th century by D'Artagnan). He is one of only a few Americans granted that distinction.
Dowling also often performs under the auspices of the Piatigorsky Foundation, a non-profit organization dedicated to bringing live classical music to underserved audiences across America. He performs both as a soloist and in collaboration with cellist Evan Drachman (grandson of cellist Gregor Piatigorsky) and other Piatigorsky Artists. Since 1994 he has performed well over 1,000 recitals nationwide through the foundation.
Dowling is a regular featured headliner at the Scott Joplin International Ragtime Festival in Sedalia, Missouri, at the West Coast Ragtime Festival in Sacramento, and at the Juneau Jazz & Classics Festival in Alaska.
In 2001, Dowling released "Sweet and Low-Down," an all-Gershwin CD on the Klavier Records label. American Record Guide's 2002 edition reviewed it: "The young pianist Richard Dowling dances through 29 Gershwin numbers with exuberance and a natural feel for rubato. He plays with what Gershwin called the stenciled style—fast, upbeat, and snappy. Dowling's inspiration is Gershwin's own style, which eschews heaviness and sentimentality. The recording has a dry sparkle perfect for Dowling's no-nonsense playing."
In 2004, Klavier Records issued Dowling's "World's Greatest Piano Rags," a compilation including compositions by Artie Matthews, Joseph Lamb, James Scott, Zez Confrey, and Scott Joplin. William Bolcom's "Graceful Ghost Rag" (composed in 1970) is particularly gorgeous, and Dowling handles its jazz harmonies with sensitivity and aplomb. Donald Vroon wrote in the July 2004 ARG , "Dowling plays with tremendous zip and zest.... I am sure he is the best ragtime pianist I have ever heard."
The upcoming new 3-CD set on Rivermont Records, The Complete Piano Works of Scott Joplin, will include a spectacular 72-page full-color booklet with detailed liner notes by Joplin scholar and musicologist Bryan S. Wright, Ph.D. and images of newly-restored original sheet music cover art for all of Joplin's published piano works.
Dowling recorded the Joplin piano repertoire as written without improvisational flourishes, exactly as Scott Joplin wished. He strove to make his performances of the written music as authentic and expressive as possible.
Dowling says, "My goal was to reveal Joplin's sophisticated use of inner voice leadings and bass line progressions, to delineate his phrasing, to balance melody and accompaniment appropriately, to observe his dynamics, accents, and other indications, and above all, to use the Hamburg Steinway's exquisite tone to give Joplin's works the polished luster they deserve...all the expressive things we strive for in classical music that allow the music to engage our emotions to the fullest extent and to speak to our hearts. I wanted to bring out Joplin's essence as a composer."
"I look forward to revealing the significance of Joplin as a composer and trailblazer of a musical style and genre that ushered syncopation into a new century and was the genesis for our American popular music. Without Joplin there would be no Lady Gaga or Beyonce today."
Richard Dowling is represented exclusively by Parker Artists, a prominent classical music management company in New York.
For more information and press inquiries, please contact Lea Saslav, LS Communications, at 415-235-6149 or visit http://www.richard-dowling/joplin.