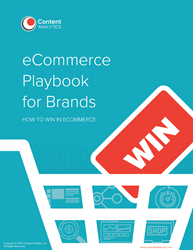 SAN FRANCISCO, CALIF. (PRWEB) March 21, 2017
Content Analytics, Inc., a leading provider of eCommerce management solutions for brands and retailers, announced today the availability of a new eBook, written by Founder and CEO, David Feinleib, that delivers a roadmap for brands to start winning online. eCommerce is growing at an alarming rate and many brands have limited eCommerce presence. By using certain best practices, brands can quickly establish strong positions online. The eBook uncovers the top seven actions that are crucial for a brand to create a robust online experience, start winning the buy box, and increase revenues.
Here are three of seven best practices outlined in the ebook:

Developing best-in-class product presence
Implementing on-going operational visibility
Adopting centralized content management
To learn all of the steps that brands can take to win online, download "eCommerce Playbook for Brands: How to Win in eCommerce" here: https://goo.gl/Ofny3C
"No matter what stage of eCommerce development brands are at, these best practices can help them accelerate their eCommerce activity. We've developed this eCommerce Playbook for Brands to share the seven key plays required for eCommerce success."
David Feinleib, CEO, Content Analytics
Content Analytics is sponsoring and exhibiting at ShopTalk, March 19-22, 2017. Visit the Content Analytics booth #1328 to learn how you can win in eCommerce.
About Content Analytics
The Control Center for eCommerce: Content Analytics is the only end-to-end eCommerce solution combining analytics, content management and reporting all in one platform. We understand the complexity of eCommerce management, so we built our platform to simplify the process, with everything you need to manage all of your products, and ultimately, increase revenues. We're helping P&G, Levi's, Dole, Pfizer, Mattel, L'Oréal, Samsung and more stay at the forefront of eCommerce. Learn more at http://www.contentanalyticsinc.com.