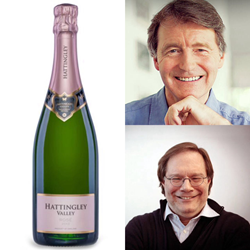 "The first difference between English sparkling wines and Italian sparkling wines is climate, for southern England, where almost all the vineyards are located, is cooler and later ripening even than Champagne", says Steven Spurrier.
Verona, Italy (PRWEB) March 21, 2017
On Sunday, 9th of April at 11am during Vinitaly, world-renowned wine writer and expert Steven Spurrier will be holding one of the six Vinitaly International Academy Executive Wine Seminars focused on traditional-method sparkling wines from the United Kingdom.
Spurrier's career spans four decades. He is currently the Consultant Editor for Decanter and consultant wine buyer for Singapore Airways. He founded l'Academie du Vin and Christie's wine course and won numerous prizes such as Le Prix de Champagne Lanson, Bunch Prize, Le Grand Prix de l'Academie Internationale du Vin, and The Maestro Award. His rise to fame is linked to the 1976 blind-tasting competition 'The Judgement of Paris.' Ian D'Agata, Vinitaly International Academy Scientific Director, talks about Spurrier's achievements: "It is not an exaggeration to say that only Robert Parker did what Spurrier did for the wine world. If today comparative tasting is so popular it is thanks to Spurrier who was living in Paris in 1976 and had the idea to launch what became known as 'The Judgement of Paris', a blind competition between the Californian Cabernet Sauvignon, which were not so popular at the time, and the great Chateaux from Bordeaux. This competition boosted the fame of Californian wines which won and was also the topic of two films (one of these, Bottle Shock, saw the Award-winner Alan Rickman who played Spurrier)." Spurrier has recently become also a wine producer — his vineyard, Bride Valley, is renowned for traditional-method sparkling wines.
In Verona during Vinitaly, Spurrier will lead a riveting tasting of 8 exceptional English traditional-method sparkling wines. "The Traditional Method, which used to be called 'La Methode Champenoise' means that the creation of bubbles takes place during secondary fermentation in the bottle, as opposed to the Charmat Method, where it takes place in tank" he explains. "Wines made by the Traditional Method rest on their lees for 12 to 48 months, thereby gaining complexity, before disgorgement and 'dosage'." The sparkling wines are very different in their organoleptic profile from their Italian counterparts Franciacorta and Trentodoc as Spurrier further adds: "The first difference between English sparkling wines and Italian sparkling wines is climate, for southern England, where almost all the vineyards are located, is cooler and later ripening even than Champagne. What the resulting wines might lack in 'fruitiness' compared to their Italian counterparts, they make up for with precision of flavour and a refreshing finish due to higher natural acidity." These and additional aspects will be thoroughly covered during the VIA morning session with Spurrier on Sunday 9 April.
D'Agata, who will be holding the seminar with Spurrier, comments on the English sparkling wine scene, which is increasingly attracting interest internationally: "The most interesting aspect of these wines is just how fast and far they have come in such a short time; there is no doubt their present day quality far exceeds that of sparkling wines made in California, for example, at the same time or stage in the development of their respective sparkling wine industry. Names of UK estates such as Nyetimber are already well known to many wine lovers and collectors, but there are many other very valid sparkling wine estates in the UK now and I am both honored and happy to be highlighting them in one of the Vinitaly International Academy tastings." The U.K. was once regarded a land of fine wines: today its Kent and Surrey regions are considered an attractive purchasing destination for French Champagne Wineries.
Spurrier's presence during the Vinitaly International Academy seminars at Vinitaly confirms, once more, the Academy's commitment to excellence in wine education. Since 2014, the Academy has certified 6 Italian Wine Experts and 55 Italian Wine Ambassadors from around the world. The Vinitaly International Academy Executive Seminars, including Spurrier's talk, will take place in the new Vinitaly International headquarters — also the home of Vinitaly International Academy — wine2digital. wine2digital is a multifunctional space for educational initiatives, wine showcases, and office space located in the PalaExpo at Veronafiere. It is also a shared community whose mission is to facilitate the communication and promotion of Italian wine abroad in an innovative and digital way.
About:
Veronafiere is the leading organizer of trade shows in Italy including Vinitaly (http://www.vinitaly.com), the largest wine and spirits fair in the world. During its 50th edition Vinitaly counted more than 4,100 exhibitors on a 100,000+ square meter area and 130,000 visitors from 140 different countries. The next edition of the fair will take place on 9 - 12 April 2017. The premier event to Vinitaly, OperaWine (http://www.operawine.it) "Finest Italian Wines: 100 Great Producers," will unite international wine professionals on April 8th in the heart of Verona, offering them the unique opportunity to discover and taste the wines of the 100 Best Italian Producers, as selected by Wine Spectator. Since 1998 Vinitaly International travels to several countries such as Russia, China, USA and Hong Kong thanks to its strategic arm abroad, Vinitaly International. In February 2014 Vinitaly International launched an educational project, the Vinitaly International Academy (VIA) with the aim of divulging and broadcasting the excellence and diversity of Italian wine around the globe. VIA this year launched the second edition of its Certification Course and today counts 55 Italian Wine Ambassadors and 6 Italian Wine Experts.