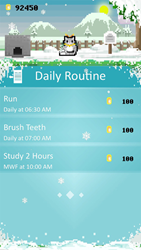 San Diego, California (PRWEB) March 21, 2017
Couple a daily to-do list application with a virtual pet friend game like Tamagotchi, add an overwhelming feeling of accomplishment, and what do you get? Petsil! This fun and simple to use mobile app encourages productivity while rewarding a user with coins that can be redeemed to purchase all kinds of items for their virtual pet.
For the Petsil team, fun ways to encourage productive habits have been a major focus. Thomas Hsieh, creator of the Petsil app, has combined peoples long standing love affair with tending to the needs of virtual pets, like Tamagotchi, with the implicit desire to be more organized in this fast paced, multi tasked world. Enter the Petsil App. Input daily, weekly and monthly tasks, set reminders and earn coins as goals are successfully completed. Each task completed earns coins that can be accumulated and redeemed in The Pet Shop to purchase common, uncommon, special, rare and legendary items for a virtual pet. Henrik Edberg of The Positivity Blogs insights into creating short to-do lists of two or three items to help boil things down to the most important tasks becomes a simple process with Petsil.
Some fun highlights of the app include virtual pet house customization, pet swaps, real time in app weather sync, to-do list sharing, calendar preview and achievements. See the app on Youtube.