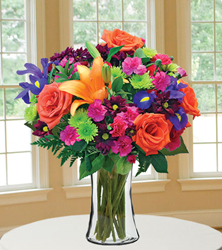 We carefully convey sensitive messages of love, sympathy, gratitude, praise, romance and congratulations
CHANTILLY, VA (PRWEB) March 23, 2017
Bloomstoday.com has released its new Spring Collection of floral splendor in vibrant colors, tantalizing textures, splendid sizes and amazing assortments designed to herald the warmth and revival that is spring. Along the same lines as color and design trends in the fashion and interior design arenas, floral greenery is akin to Pantone's 2017 Color of the Year, Greenery, and flowers in bouquets are cropping up in fabrics and home decor. Fashion designer Rachel Zoe observes: "I think, in spring, we don't want to wear makeup, we don't want to wear a ton of clothes, we just want everything to be easier."
So what could be easier than scrolling through stunning flowers in full bloom assembled in clear glass vases, baskets woven of natural materials and colored glass vases as stunning as the flowers. Once again, the company's floral professionals have spent untold hours to roll out a wide variety of spring bouquets:

splashes of color, like Vibrant Garden Bouquet
monochromatic, like 12 Lavender Long-Stem Roses
dish garden, like Dish Garden with Fresh Cut Flowers
sweet and whimsical baskets, like FTD® Nature's BountyTM Basket
plants, like orchid or cyclamen
stunning arrangements, like Tranquil Sunlight Bouquet
tall and elegant, like FTD® Bright & BeautifulTM
and many more
One dazzling new feature this spring is the addition of many colorful glass vases that enhance the overall look with flowers and live on as keepsake treasures, repurposed for holding more flowers or a dried arrangement, potpourri, beads or pennies. In soft matte shades of lavender and pink to a rich deep cranberry glass and an antique cream tall vase adorned with a pewter-like cross, these vessels take center stage as a decorative accent piece. Also, unusual are lavender roses and unique color combinations like luscious deep red and medium mauve or multiple shades of white and cream with spots of yellow.
Bloomstoday.com is an award-winning floral site with highly rated customer service. The company has been recognized nationally for its chat feature and knowledgeable floral consultants. The entire bloomstoday.com team treasures every client, and according to co-founder George Dukas: "We are not just in a floral business, but a provider of sentimental expression."
"We carefully convey sensitive messages of love, sympathy, gratitude, praise, romance and congratulations, " adds co-founder Don Mayer. "There are emotions attached to every bouquet, and we strive 24/7 to deliver a superior customer service experience and the best fresh flowers on the planet."
Spring might be the most exciting bloomstoday.com floral collection of the year, as people relish warm afternoons, spring rain, longer daylight, emerging flora and fauna and renewed energy and optimism.
About Blooms Today:
Blooms Today™ has taken the local flower shop feel and deep understanding of customer needs to a nationwide floral delivery service provider level. With a deep commitment to exceeding customers' expectation for quality, value and extraordinary service, Blooms Today has served millions of customers nationwide for more than 15 years. From a small local floral business with roots that stem back to the early 1920s, co-founders George Dukas and Don Mayer in 2000 have built a family business that is known as Blooms Today.